Advertisement
&nbsp &nbsp
Bitcoin exchange outflows are at record highs.
It could signify the creation of a price bottom.
The asset is still holding above the $46k price point.
Bitcoin aggregate exchange outflows are at a critical level. According to on-chain data analytics firm Glassnode, exchange outflows volume of this level has only been observed on rare occasions.
A New Price Bottom
Since recouping losses in Q1 2022, Bitcoin volatility has dwindled, minimally impacted over the last few days. The asset enjoyed a week of bullish momentum from the 22nd of March to the 30th. However, the asset has moved with uncertainty and few shake-offs.
While Bitcoin bulls would like to see a run-up to the $50k price point, various factors could delay the headway of the crypto asset. Several investors are still on the sidelines in the face of expected rate hikes from the Fed, the crisis in Ukraine, and the increasingly stringent EU policies.
However, Glassnode data has highlighted major juice for Bitcoin bulls. According to the on-chain analytics firm, aggregate exchange outflows have touched the rate of 96.2k BTC per month. Glassnode says such volume is rarely seen. Historically, it was last seen at the end of March 2020.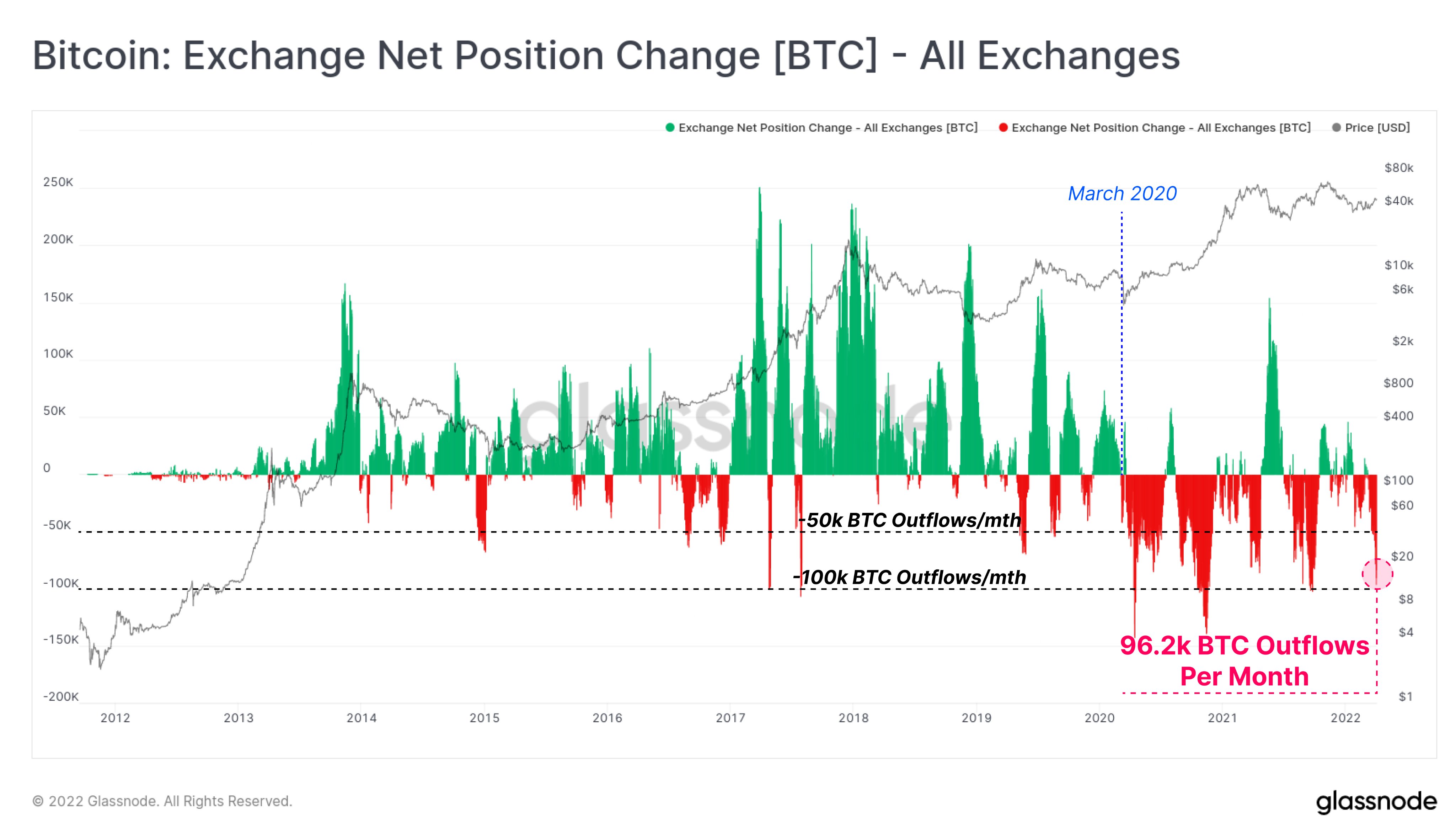 "Bitcoin exchange outflow volume recently hit a rate of 96.2k $BTC per month. Aggregate exchange outflows of this magnitude have only been seen on a handful of occasions through history, with most being after the March 2020 liquidity crisis."
Advertisement
&nbsp &nbsp
Notably, the outflow level correlates with creating a price bottom that ultimately saw the asset make significant gains in the fourth quarter of 2020. While this might be a similar scenario, it may take time to play out.
Pundits Analysis And Price Action
As reported earlier by ZyCrypto, popular Bitcoin analyst and creator of the famous S2F model, PlanB currently believes that Bitcoin is undervalued. The analyst notably said, "Bitcoin is at a 55% discount right now," noting that the next mining reward halving was around the corner and sudden market volatility would not be out of place. This analysis seems to be supported by Glassnode's recent findings.
However, not all pundits have such high hopes for the asset class, at least not for this year. Mike Novogratz recently told investors not to expect huge gains this year due to regulatory uncertainty surrounding the developing markets.
Bitcoin is currently down 0.96% on the day, trading around the $46,400 price point with a market valuation of $883 billion.
---
---