Advertisement
&nbsp &nbsp
Key Takeaways
Uniswap (UNI) has emerged as the most actively developed blockchain platform.
UNI is followed by Solana, Cardano, Polkadot, and Kusama in development activity.
Uniswap's dominance speaks volumes of the Ethereum ecosystem.
Uniswap, Solana, and Cardano are holding their place among the best-performing blockchain networks. In the past 30 days, the Ethereum-based decentralized network protocol, Uniswap (UNI), has dominated blockchain platforms with the most development activity.
Blockchain development activity spikes despite market turbulence
According to Santiment Data, the GitHub repository of the Uniswap protocol has recorded 1,070 notable code submissions per day from developers.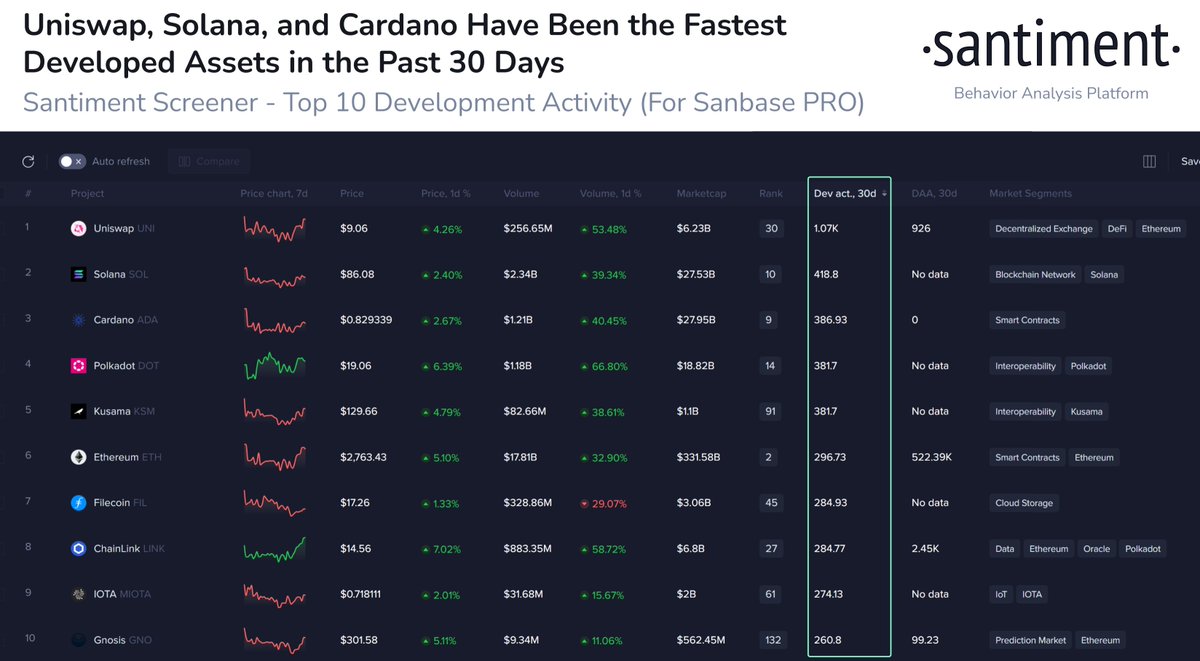 With the turnout, Uniswap surpassed the former leader, Solana, which had 418 submissions. Meanwhile, Cardano, Polkadot, and Kusama made up the rest of the top five blockchains by developer activity. The blockchains saw 386, 381, and 381 daily code submissions respectively according to data from the crypto social sentiments tracker.
The flourishing development activity among the blockchain platforms is remarkable as it has coincided with uncertain market conditions of late. The platforms' tokens have also recorded positive returns in the time under consideration.
Advertisement
&nbsp &nbsp
On the 7-day chart, the price of Uniswap (UNI) is up 10.5%, Solana (SOL) 11.48%, and Cardano (ADA) is up 9.33%. Similarly, Polkadot (DOT) and Kusama (KSM) are up 5.16% and 17.1% respectively in price.
Uniswap emphasizing the dominance of the Ethereum ecosystem
Uniswap has not only been crushing it in development activity. The automatic market maker (AMM) DEX currently has the second-highest total value locked (TVL) in any decentralized exchange. Uniswap has a TVL of $7.53 billion per data from DefiLlama, a DeFi data aggregator. Uniswap is only surpassed by Curve (CRV) among DEXs. Similarly, Uniswap is ranked 7th going by TVL on all DeFi platforms.
UNI, the governance token of the protocol, has been putting up an impressive performance in the market as well. UNI is trading at around $9.29, up 6.79% in the last 24 hours and 10.93% in the 7-day chart. With a market cap of over $6.6 billion, the UNI token is ranked 24th in the crypto market.
No doubt Uniswap's success can be linked to Ethereum's growing adoption and popularity. The world computer, as the Ethereum blockchain is described, has been justifying its name. It continues to dominate other blockchains by total value locked in DeFi.
Ethereum has a TVL of $116.3 billion, bringing its market dominance to 55.14%. The blockchain also has the most extensive DeFi ecosystem with 567 top protocols hosted on it.
---
---