Advertisement
&nbsp &nbsp
The Bitcoin network sets a new record of $12 trillion in transactions settled in a year.
10T Holdings founder, Dan Tapiero, says the massive volume is evidence of incoming hyperbitcoinization. 
Institutional and retail adoption continues to grow following the new development.
The Bitcoin network has been breaking and setting new records in 2021. Year-to-date, the Bitcoin network has settled more than $12 trillion in transactions according to data from Coin Metrics.
The data was pointed out by the founder and CEO of 10T Holdings, Dan Tapiero, who hailed the feat as evidence of hyperbitcoinization. Hyperbitcoinization is a term used by Bitcoin proponents to describe the widespread adoption of Bitcoin. While Tapiero does not consider it to have happened yet, he says that it is gradually happening as has been seen in 2021.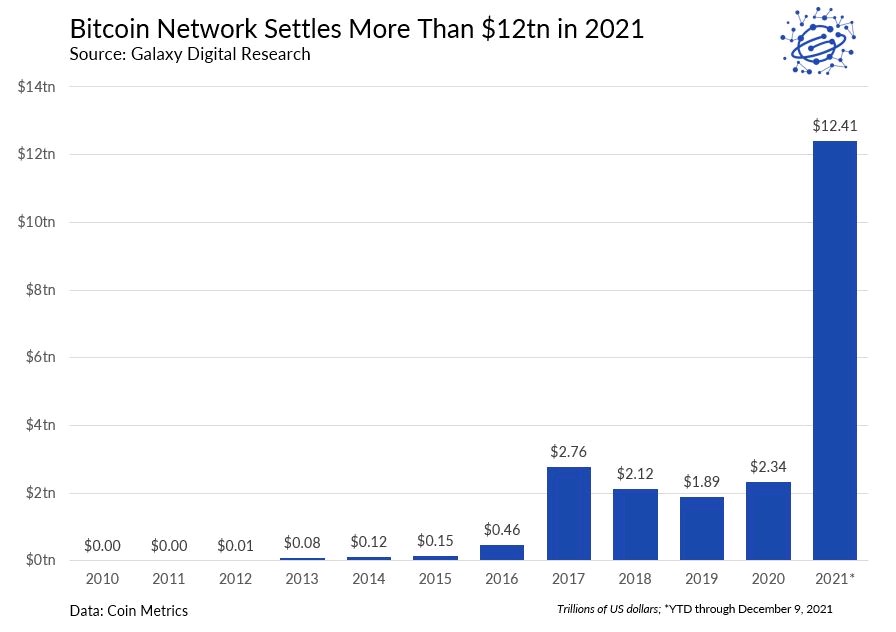 This record is coming on the back of a previous record in which the Bitcoin network set a new all-time high record of $31 billion in daily transactions settled.
Indeed 2021 has been a great year for Bitcoin adoption. The pioneer cryptocurrency has seen its adoption rise significantly among retail investors, institutional investors, and even governments. According to data from BuyBitcoinWorldwide, a Bitcoin holdings value monitoring tool, institutional investors including private and public companies, ETFs, and the government of El Salvador currently hold nearly $70 million worth of Bitcoin on their balance sheet.
Michael Saylor's MicroStrategy continues to be the leader among the institutions that hold Bitcoin as it currently holds more than 121,000 Bitcoin worth about $6 billion or around 0.5% of the circulating supply of Bitcoin.
Advertisement
&nbsp &nbsp
Countries that own Bitcoin include Bulgaria, Ukraine, Finland, Georgia, and notably El Salvador. These countries together hold around 1.2% of the circulating supply of Bitcoin or around 263,000 Bitcoin according to the data provided by BuyBitcoinWorldwide.
On the retail side, one notable contributor to transaction volume can be pointed out in El Salvador. In 2021, Bitcoin became legal tender in the Central American country, which has also set a record for being the only country to be adding Bitcoin to their currency reserve.
Bitcoin has also gotten massive media coverage this year. While not all the attention has been positive, there is no doubt that they give the benchmark cryptocurrency some level of visibility that has contributed to its adoption.
For the future, it is expected that Bitcoin will continue to grow, hence the expectation of hyperbitcoinization. The increased adoption has been at the driving seat of the price growth of Bitcoin.
In 2021, the price of Bitcoin reached a new all-time high of $68,778. Bitcoin is currently trading at around $46,947, down 3.78% in the last 24 hours. By the projection of several key analysts, the price of Bitcoin is expected to reach monumental figures as its demand increases in the future due to its fixed supply of 21 million coins.
---
---