Advertisement
&nbsp &nbsp
The Bitcoin bull rerun is loud and unmatched. Bitcoin bulls seem to be on a journey to make up for all the losses sustained since May, by correcting upwards fundamentally and technically.
In a previous report, we outlined the possibility of Bitcoin hitting $157,000 in the long term, according to the Bitcoin Hash Ribbon indicator. Falling in line with the bullish metric is the rising adoption rate of the Bitcoin metric.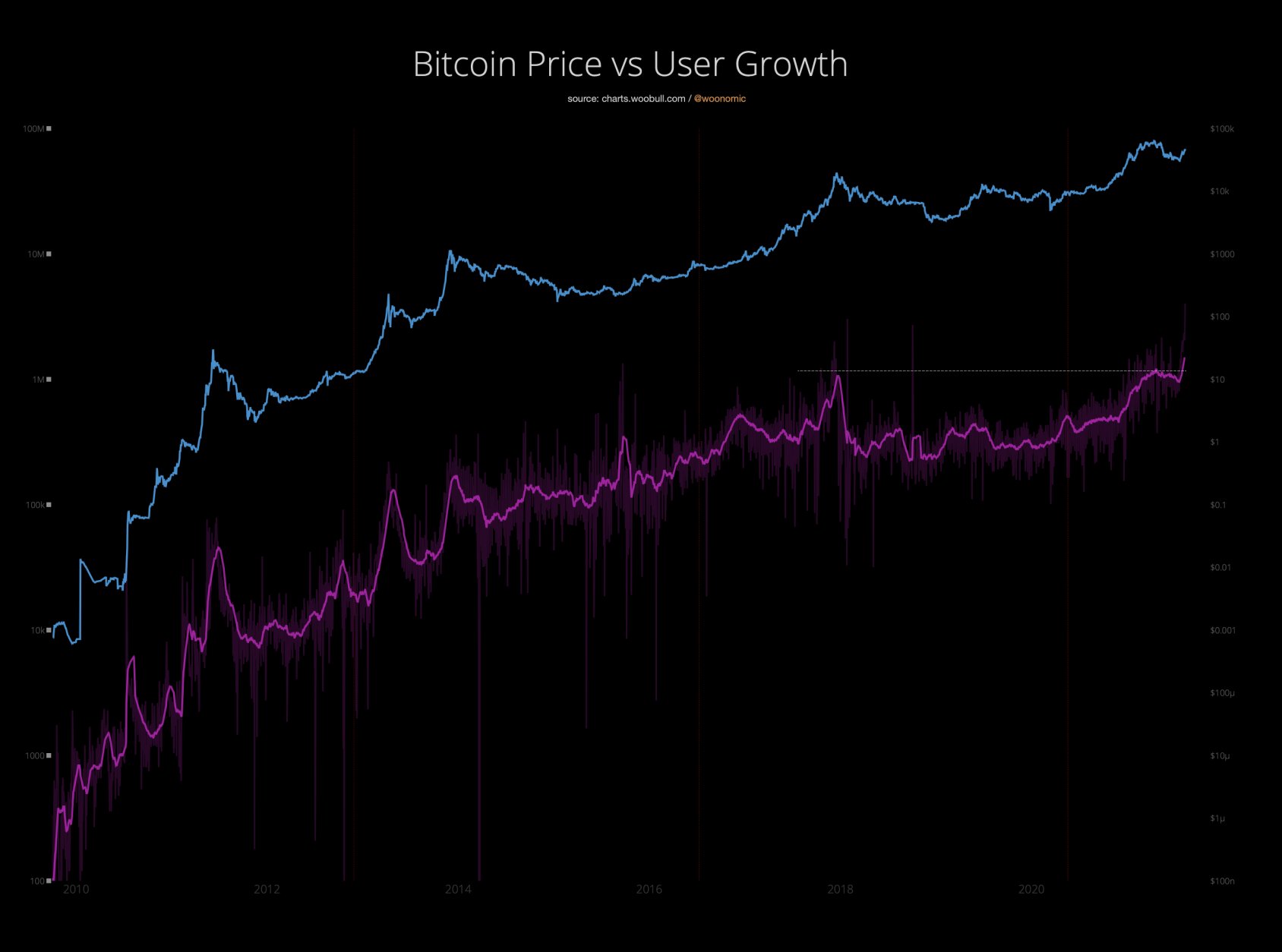 Bitcoin network adoption skyrockets significantly
As the above chart depicts, Bitcoin's price vs user's growth is surging tremendously.
From mid-July till date, over 1 million new users have entered the market.
Willy Woo reckons that the network is now performing at a very fast pace. The on-chain expert took to Twitter, saying; 
Advertisement
&nbsp &nbsp
"Users on the Bitcoin network is now growing at its fastest rate ever.1.2m users were added in the last 30 days. Does not include off-chain users on exchanges which typically sees up to 3x this number."
Woo further estimates that the growth is "equivalent to onboarding a country the size of El Salvador every 2 months."
Crypto proponent Dan Held also chimed in, noting that the gains are almost as many as the number of users the network gained throughout its 2013 to 2014 cycle.
The milestone is especially important as network rivalry between Bitcoin and Ethereum intensifies. Ethereum seems to be dominating the DeFi market, and as Bloomberg pointed out; "the digitalization of money and finance is accelerating and the go-to platform is Ethereum, which we see maintaining an upward price trajectory."
As far as use case diversity is concerned many would argue that Ethereum is miles ahead of Bitcoin, hence the significance of Bitcoin's network adoption growth, and price increase.
Watch out for $49,000 – $50,000, Bitcoin on-chain expert says
Speaking of price increase, Bitcoin has sustained mild daily losses, causing it to stumble after hitting a daily high of $46,735. At press time, daily gain sits above 5%, as prices correct upwards to $46,405.
As predicted by William Clemente last week, Bitcoin closed below the 200D moving average, which triggered the downward movement.
Although Clemente thinks a drop to $44,000 will not be surprising, the bulls are still trying to maintain stamina above $45,000 at press time.
His analysis rounds up with a bullish prediction (Bitcoin is set to attempt $49,000/$50,000) one that has been co-signed by many other traders.
---
---