Advertisement
&nbsp &nbsp
Key Takeaways 
Santiment data points to healthy ecosystem development in the Solana network.
The price of SOL is up 11.4% in the last 7 days, following a key announcement.
Solana's price woes do not seem to have affected the resolve of developers in its ecosystem. Data from Santiment shows that despite SOL being down -66% from its all-time high, development activity has been increasing.
Solana development activity rate has skyrocketed
Going by the social sentiments tracking platform's development activity metric, the Solana blockchain's repository has recorded an activity rate of 2228.29, one of the highest in the crypto industry this month.
The figure has several positive implications for the Solana blockchain. For one it indicates that the project is serious about improvements and polishing features. Additionally, it also means that new features are likely to ship soon.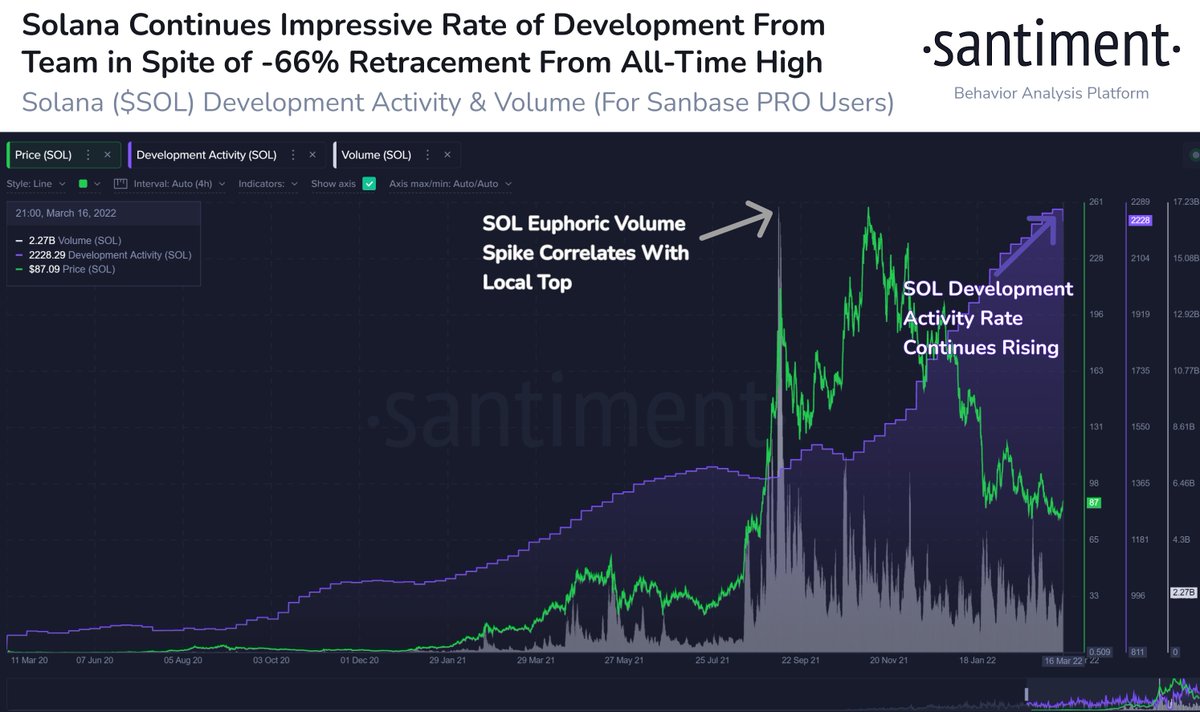 More data points to Solana's advancing development activity. As ZyCrypto reported, GitHub code commits by developers in the Solana ecosystem were the second-highest of any crypto platform of late. Trailing Uniswap, Solana registered an average of 418.8 notable GitHub submissions per day in the last month.
Advertisement
&nbsp &nbsp
Solana has been sustaining healthy ecosystem development activity over the past few months as well. As of last month, the Solana blockchain logged the highest number of GitHub commits of any Layer-1 platform in the crypto industry for the past three months. 
The elevated development speed has however been bestridden as the network fronts multiple challenges with network outages. Between September 2021 and January this year, the network put up with reduced performance due to large volumes of bot trading activity.
SOL closing in on $100?
SOL, the native token of the Solana blockchain, has been trending upwards in price. SOL is trading at $90.41, up 1.43% in the last 24 hours. This represents a 10.50% increase on the weekly chart.
Remarkably, if SOL maintains the momentum, it could swiftly cross the $100 mark with an about 10% surge. Santiment's data implores observers to keep an eye on SOL trading volumes. This is because volume spikes have been trending towards acting as price reversals for the crypto asset and therefore could be an indicator of upside potential.
The price action of SOL on the day is also coinciding with Coinbase's addition of support for Solana tokens to its self-custody wallet. With the announcement, Solana and its ecosystem tokens have become the first non-EVM assets to be supported by Coinbase's wallet.
---
---