Advertisement
&nbsp &nbsp
Bitcoin has seen explosive growth in price and adoption in the last 2 years. Both institutional and retail investors recognize bitcoin as a scarce and secure asset to hold. However, bitcoin's price has been on a downtrend for the past 5 months. Are we experiencing the next bear market or is an ultra-bullish reversal due to come? There is one important bitcoin metric that suggests the latter is valid.
The number of bitcoins sitting on exchanges can be a good indicator of what traders are planning to do with them.
Usually, during a market selloff, the number of bitcoins on exchanges grows, as people are getting ready to sell. If you are not planning to sell any time soon, the logical thing would be to take your coins to a self-custodial wallet or cold storage. The public nature of the blockchain lets us track crypto exchanges inflows and outflows and see where the coins are heading.
According to the chain analysis firm Santiment, Bitcoin's supply on exchanges is at its lowest level since December 2018. This is a key date since it marked the bottom of the 2018 bear market.
At that time, BTC was trading at about 3100 USD after reaching a peak of almost 20,000 USD a year ago. Nonetheless, during the next 6 months, the price of BTC more than tripled. And of course, it did not stop there. From the December 2018 bottom till today, the price of Bitcoin grew more than 1000%.
Advertisement
&nbsp &nbsp
Chart by the on-chain analytics platform IntoTheBlock shows over 60,000 BTC has been taken off exchanges within days with more than 15,000 BTC flowing out of exchanges on Monday, the largest since Jan 29th.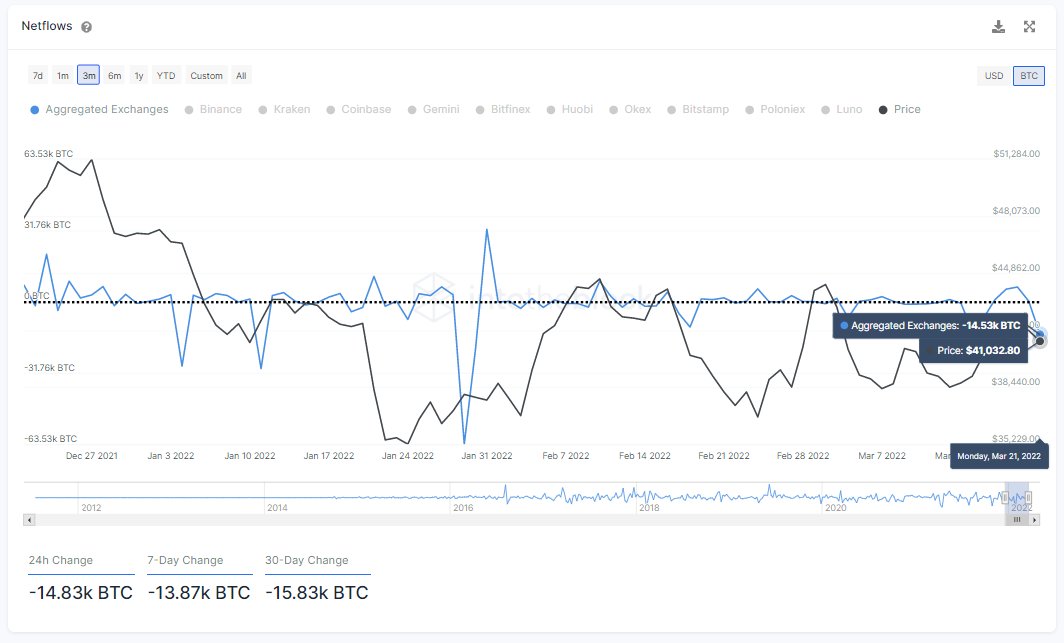 Are we in the same position now as we were in December 2018?
Well, yes and no. Bitcoin is currently leaving exchanges at a rapid pace, indicating there is no selling intent.
As it happened in 2018, with no selling pressure, the bulls might win and drive the price up. Nevertheless, we are in a much better position now than we were then. This is because Bitcoin matured a lot during the last couple of years.
On one hand, the infrastructure built behind BTC has grown exponentially. There are more exchanges and companies that make it easier for retail and institutional investors to hop on the Bitcoin train. On the other hand, the entire way people see crypto, in general, has shifted.
Bitcoin is no longer a made-up digital coin used for illicit activities, it is now seen as a legit asset class. The fact that adoption and demand for BTC keep rising and the liquid supply on exchanges keeps falling indicates the continuation of a bull market.
---
---