Advertisement
&nbsp &nbsp
Bloomberg commodity strategist Mike McGlone has talked up Ethereum via social media, claiming that the digital asset is to Fintech what Bitcoin is to gold. By definition, Fintech refers to any platform on which technology is used to automate financial transactions and, as McGlone would have it, Ethereum is superior to Bitcoin in such regard.
Ethereum Looking Like It Could Surpass Bitcoin In Market Cap
Both coins have plunged down the charts in recent times but the ETH market valuation has been growing steadily and stood at $322,703,169,477 at the time of writing, per Coinmarketcap.
On Thursday, the Bloomberg strategist tweeted the following:
"#Ethereum Is to Fintech What #Bitcoin Is to Gold: BI Commodity — Portfolio allocations to Ethereum are becoming prudent as the No. 2 crypto's potential rises to surpass Bitcoin in market cap. The world is rapidly going digital and Ethereum is at the top of the food chain…"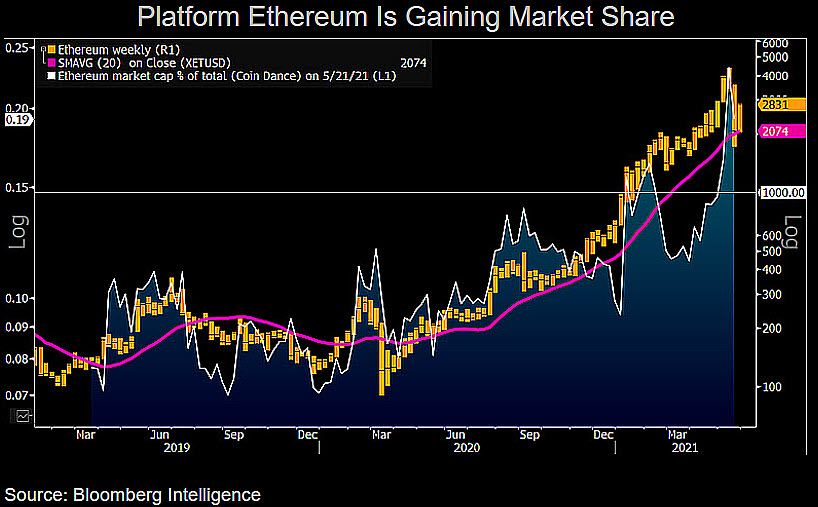 Many cryptocurrency investors have turned to Ethereum, the world's second-largest digital asset, yet it has its fair share of problems. High transaction fees and minting costs are common complaints, which is why proof-of-stake coins such as Cardano, Polygon, and Cosmos now have a leg up. There are also qualms over the environmental impact as BTC and ETH both require unreasonable amounts of energy to mine.
Advertisement
&nbsp &nbsp
Ethereum founder Vitalik Buterin has pointed out that the upcoming change in models will significantly reduce the huge carbon footprint, with the blockchain set to transition from proof-of-work to proof-of-stake.
"Proof-of-stake is a solution to the [environmental issues] of Bitcoin—which needs far less resources to maintain," Buterin declared at the StartmeupHK virtual festival in Hong Kong on Thursday.
Ethereum 2.0 isn't likely to launch this year, however, and might not be here until 2023 – best case, 2022.
How The 2.0 Upgrade Could Revolutionize The Crypto Space
Should the developers get it right, Ethereum 2.0 could prove to be revolutionary in the crypto space as the novel blockchain would see to a network able to facilitate up to 100,000 transactions per second without requiring nearly as much energy to mine. Once the new model is up and running, Ethereum will also be able to push smart contracts on a much wider scale.
Of course, current proof-of-stake coins like the ones mentioned above are already way ahead and will likely be much improved by the time ETH 2.0 hits launch. At the moment, though, investors and developers alike are seemingly showing more interest in Ethereum as opposed to Bitcoin.
---
---