Advertisement
&nbsp &nbsp
We are living in times of economic uncertainty. No thanks to geopolitical tensions and peaking inflation rates, the market isn't looking as vigorous as it used to be. Bitcoin had struggled to reclaim lost ground at the beginning of the year to almost hit $50k again but that has since fizzled out.
Unmoving, since mid-April, the crypto market has been trending on the downside and steadily breaching critical support levels. This has compelled a lot of traders to sell their positions and turn them into more unassailable investments like bonds or even cash. Is this the right move? What are the most experienced and wealthy traders doing?
According to data obtained by market analyst Ali Martinez from the on-chain and social metrics firm Santiment, large bitcoin holders have, yet again taken this opportunity to grow their bags.
To be more specific, wallets with 10,000 to 100,000 BTC are now holding 2% more BTC than before after acquiring over 40,000 BTC since bitcoin dipped to $38,200 on April 25.
This move not only puts a buying pressure of $1.6 billion dollars on the market, but it also means big players are willing to snag BTC at a discount right now.
Advertisement
&nbsp &nbsp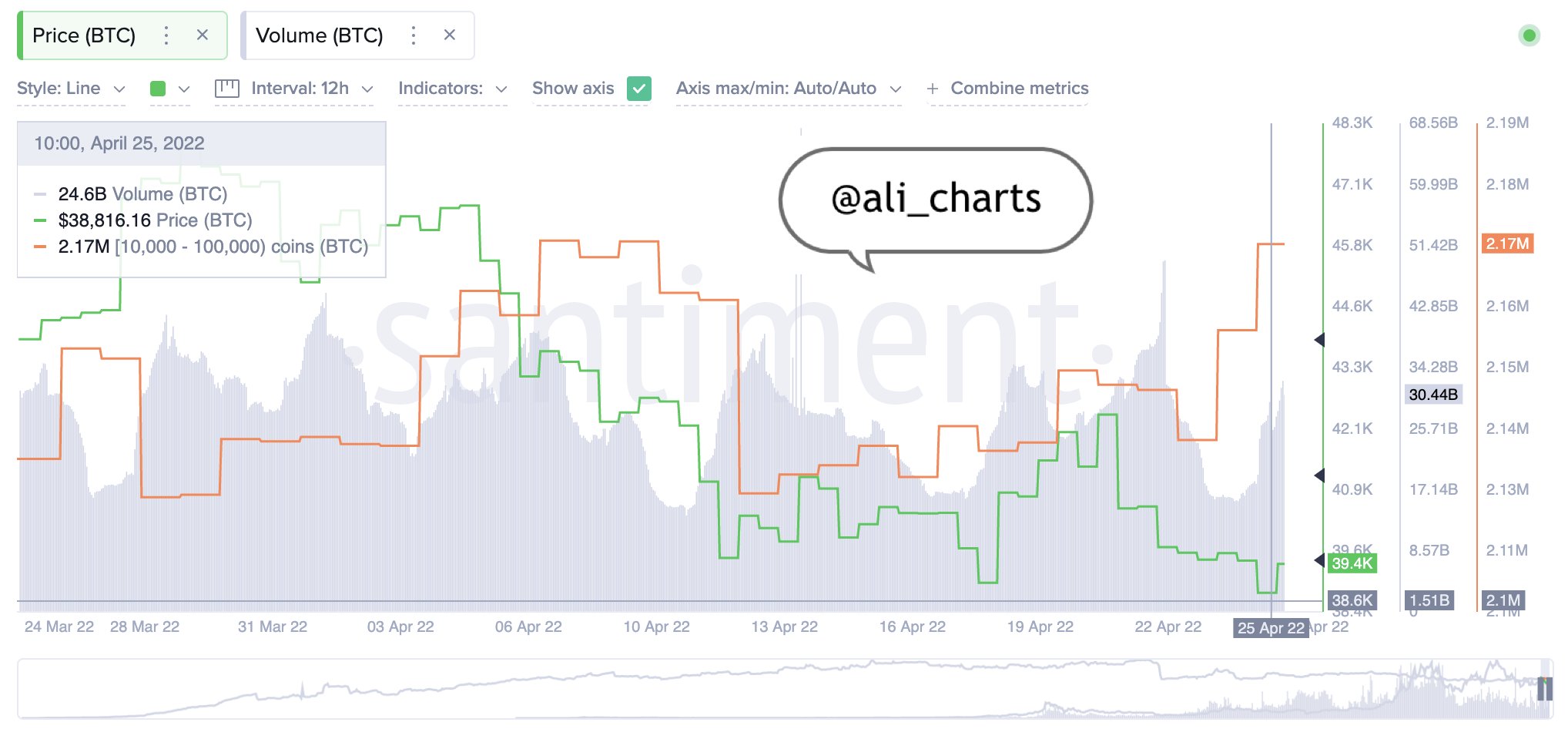 It's easy to be influenced by the negative sentiment on social media, but small retail investors aren't the ones who move the market. The major whales silently buying or selling are largely the ones responsible for setting market trends.
It is difficult to predict the price movement of a volatile asset like Bitcoin in the short term, but in the midterm, we can make sense of it by looking at who is buying and who is selling.
If there is panic in the market but the ones selling are the short-term holders, it may be a good boarding opportunity. On the contrary, if prices are starting to tumble after a recent bull run and those responsible for it are long-term holders taking profit, it might be the beginning of a bigger dump. In this case, by watching the on-chain data presented above, it seems that the former is could be reasonable.
---
---