Advertisement
&nbsp &nbsp
Key Takeaways
Veteran trader Peter Brandt thinks the price of Bitcoin has not bottomed out. 
His perspective is informed by the lack of panic selling in the current market.
Brandt's view has been disputed by on-chain analyst Willy Woo who thinks panic selling is unlikely to happen. 
The price of Bitcoin has for the past few weeks been experiencing some turbulence. Since reaching a new all-time high of around $68,789 in November, BTC has dropped significantly to reach a low of $45,515. It is currently trading at around $49,000, down 1.2% on the day.
However, the worst may not be over according to some analysts. According to the CEO of Factor LLC Peter Brandt, the Bitcoin market may not have bottomed out yet. He speculates this because he is yet to see a trend that has marked other bottom prices of Bitcoin.
In a tweet, the legendary trader noted that key bottoms in the price of Bitcoin have often been preceded by high volumes of panic sell-offs in the market. He notes that in the current market downturn, this is yet to happen in his opinion, and asked other observers to share their thoughts.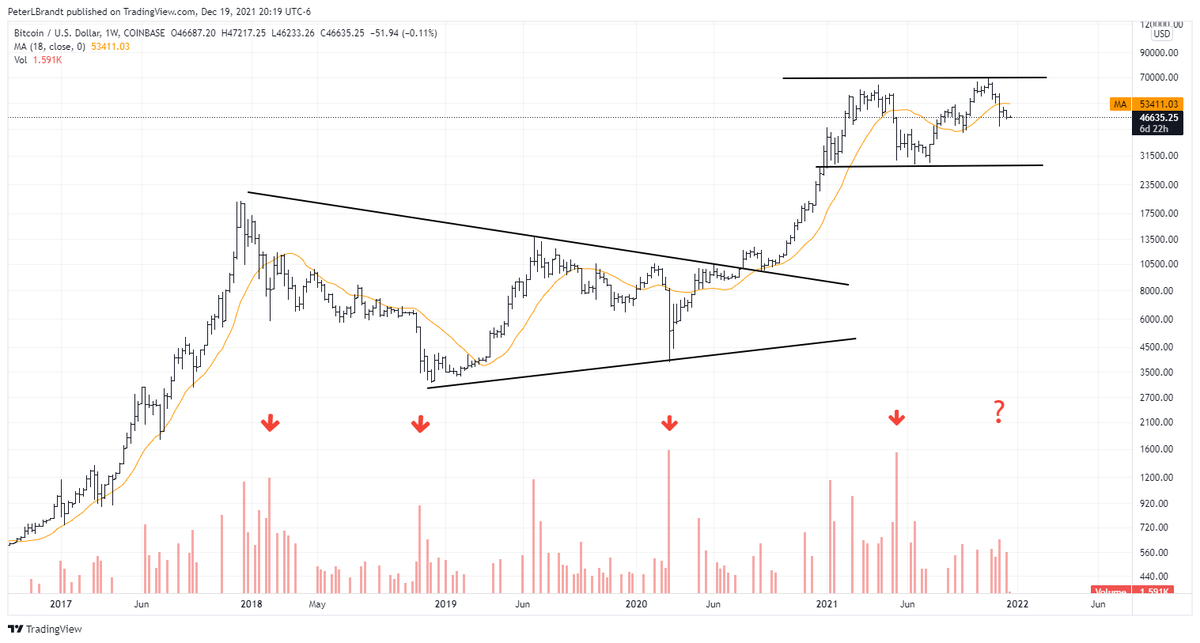 Peter Brandt also recently observed that Bitcoin may be forming a double top formation. He concedes that the highly bearish pattern is yet to be confirmed, but cannot be ruled out.
Advertisement
&nbsp &nbsp
Counter arguments to Brandt's take
Brandt's market remark has done what he intended by sparking a dialogue. He has been getting reactions that dispute his observation. According to on-chain analyst Willy Woo, the market was effectively in consolidation as investors were showing strong holding sentiments. He noted that the chart Brandt was basing his observation on was from Coinbase which had been getting sell-side pressure due to deleveraging on the futures market and Asia.
He explains further that capitulation usually happens to mark the end of a bear market, but as the market is in a consolidation/re-accumulation phase, only liquidation volumes in the derivatives market were driving the market volatility.
Meanwhile, Bitcoin looks ready to end a second month in a row with negative gains. Having ended November 7.12% down, it is currently 19.4% down in December. Despite this, sentiments remain strongly bullish heading into 2022. Analysts including PlanB expect that in the long term, the price will regain its previous highs and advance even higher.
---
---