Advertisement
&nbsp &nbsp
If you thought the price of Bitcoin has bottomed out, you could be in for a surprise. The price of Bitcoin has failed to break above the psychological $50,000 level going into the new week and has dropped below $46,000 on December 20.
Now investors are watching whether the flagship cryptocurrency can resume the bullish trend. Meanwhile, legendary trader Peter Brandt with 43 years of experience in trading in the financial markets points out that the price has not reached its floor despite declining by over 30% since peaking near $69,000 in November.
Bitcoin Is Not Done Bleeding
Bitcoin is currently facing downward pressure from macro headwinds. BTC is trading near $45,893.69 at press time, representing a 3.41% decline on the day. The cryptocurrency has taken a considerable hit in recent weeks, dragging the wider crypto market lower.
In a Dec. 20 tweet, trader Peter Brandt noted that key bottoms in Bitcoin occurred with panic capitulation driven by strong volumes.
This hasn't happened yet, which means that the No.1 cryptocurrency by market value could post lower lows in the near future. According to Brandt, Bitcoin has not recovered from the September low. While some disagreed that we will see a capitulation sell-off, others believe the Bitcoin price has to search lower for real liquidity before completely reversing the bearish trend.
Advertisement
&nbsp &nbsp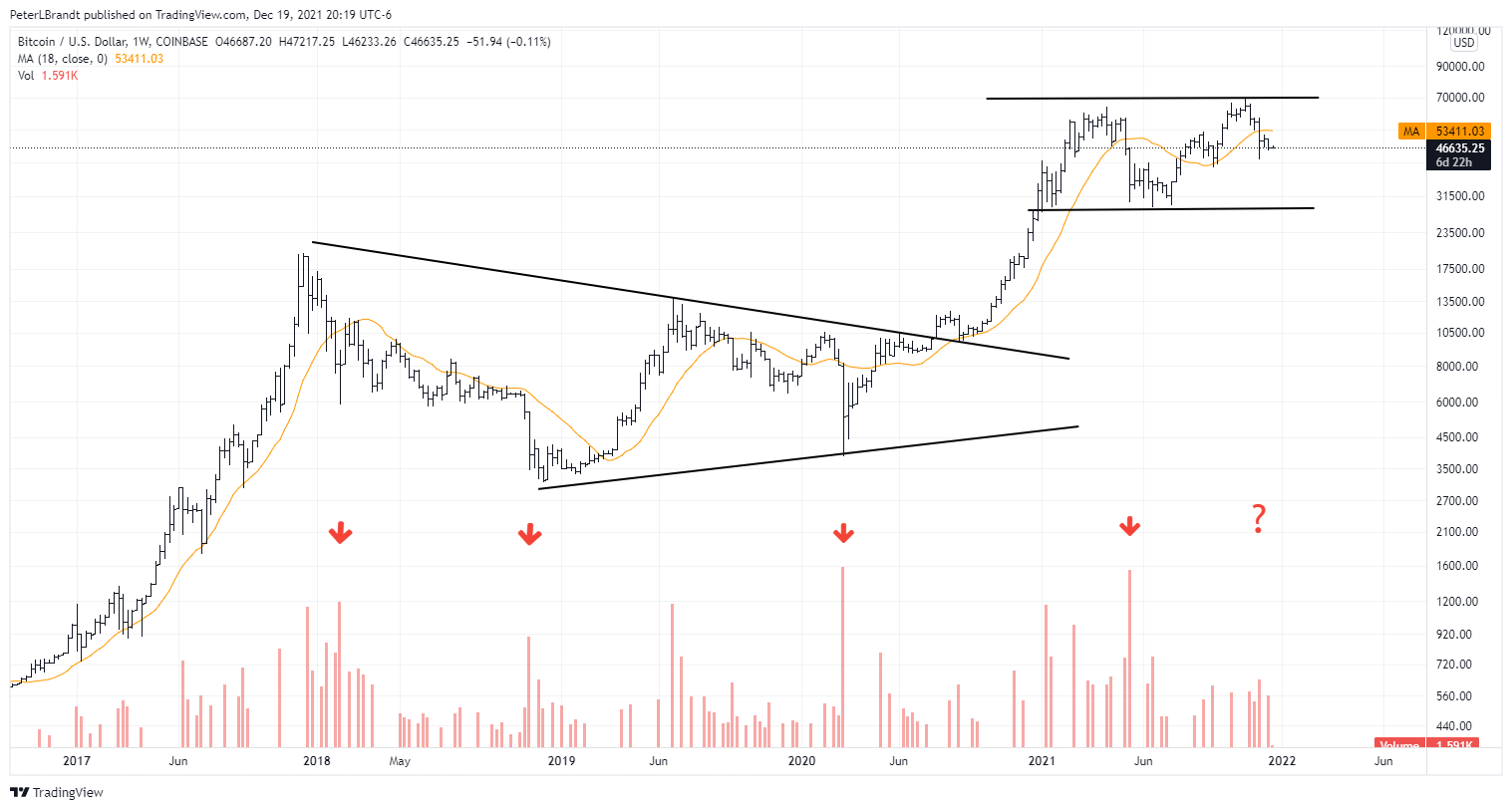 Like others, the classical chartist also posits that a massive pullback does not have to take place during a full-fledged macro bull run. However, he says there should be expanded volume on advances.
Safe to say Bitcoin is currently at a critical juncture and remains vulnerable to further losses if the bulls are unable to strongly hold current support levels. As the US stock market has such a dark outlook amid concerns about the omicron variant of the coronavirus, it wouldn't be surprising to see Bitcoin plunge further in the near term.
How Low Will Bitcoin Go?
The crypto market is currently in a tailspin and could be for the next coming weeks. Nonetheless, it will bottom out eventually and mark a huge opportunity when it does.
Worth mentioning that popular stock-to-flow creator PlanB recently acknowledged that Bitcoin would need a "small miracle" to hit $100K by Christmas. He still won't be abandoning his Bitcoin price models, which remain valid despite the recent occurrences.
PlanB's rosy outlook tells us that these trying times shall pass.
---
---