Advertisement
&nbsp &nbsp
Key Takeaways
Bitcoin S2F creator PlanB says it would take a miracle for Bitcoin to reach his predicted $100k price for December. 
The analyst however continues to stick with the model's prediction.
Bitcoin's price has suffered volatility that has been attributed to massive selloffs happening in Asia.
Creator of the Bitcoin stock-to-flow model, PlanB, remains bullish on Bitcoin despite the recent market volatility. In a recent tweet, the analyst said he will not ditch the S2F even if the market is veering off its prediction at the moment. 
He concedes that it would take a small miracle for the price of Bitcoin to have a "100k Christmas." But he maintains that whether this plays out or not, he will continue to expect the market to track the S2F model. He adds that this is not the first time that it would seem like the model was not accurate and he likes "being at the lower bands."
He also shared a graphic that seemed to imply that the market is set for another upward bounce as it had been following the pattern.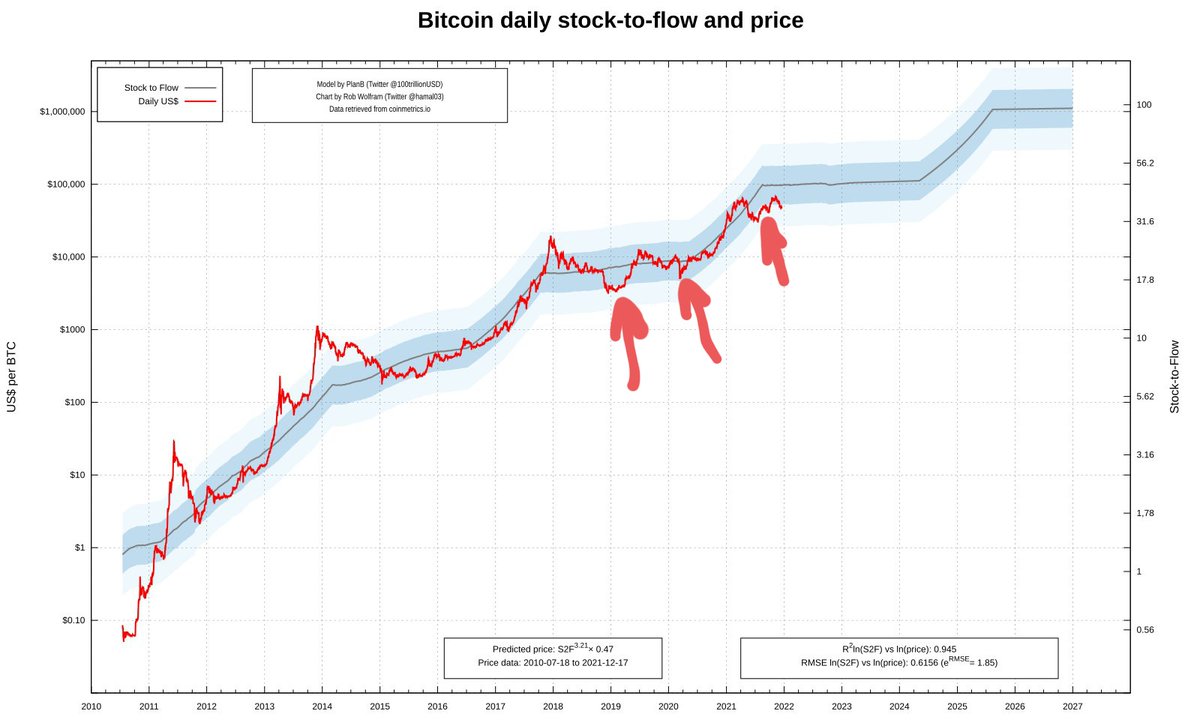 His latest take is coming after he stated that the all-time high price of nearly $69,000 cannot be the highest price the benchmark cryptocurrency will reach in this halving cycle. He also explained that the Bitcoin market will not see an 80% drop in price in its history again.
Advertisement
&nbsp &nbsp
The S2F model and price of Bitcoin
Back in June, PlanB predicted that the value of Bitcoin during August, September, October, November, and December would be in the range of $47k, $43k, $63k, $98k, and $135k, respectively. His prediction for the first three months came true as the value of Bitcoin was well above his predicted price at the end of October.
However, the model faltered in November and now December as the volatility of the market kicked in unexpectedly. Recent analysis from cryptocurrency on-chain analysis firm Glassnode has attributed the price swings to be tied to massive selloffs happening in the Asian market. 
In particular, much of the selling pressure has been emanating from Asia's largest cryptocurrency exchange Huobi according to Bitcoin on-chain analysis expert, "the rational root." The analyst noted that BTC had been flowing out of Asia for some time as Huobi has been ramping up their move out of China.
However, he adds that the U.S. and European markets have been buying up the outflow. This was also noted by Glassnode's analyst, Johannes, who called it one part of the silver lining in the market. Johannes noted that the rate of selling has been decelerating, indicating that the price may soon continue its upward journey.
On the day, Bitcoin is trading at around $48,496, up 4.41% on the day.
---
---