Advertisement
&nbsp &nbsp
S2F model creator, PlanB, expects Bitcoin to emerge stronger from the current bear market.
Market players are convinced the market will play out differently.
Pseudonymous analyst and investor, PlanB has maintained a long-term bullish stance on Bitcoin for a while. The creator of the Bitcoin stock-to-flow (S2F) model, like many others, held that the price of Bitcoin would clinch $100,000 by the end of the year.
The sentiment was guided by how promising Bitcoin looked earlier this year when the pioneer cryptocurrency rapidly reached a price of close to $67,000 in May, before retracing downwards on the back of several negative market-moving events.
The crypto market and Bitcoin were able to stage a comeback with Bitcoin surpassing its previous high to reach a new high of $68,554 in November. But since reaching the new all-time high, the price has slipped lower, defying all the bullish predictions and causing market sentiments to largely turn bearish.
PlanB continues to assert bullish turnouts
Despite the bear trend, PlanB remains bullish and maintains that the S2F model which expects Bitcoin to reach a valuation of over $100,000 is still in play.
In his latest take on the market, the Dutch analyst acknowledged that the price of Bitcoin was currently being pressed underwater by bears in the market, but like an air-filled ball, it would inevitably bounce back above water. The low it goes, the higher it was likely to bounce.
Advertisement
&nbsp &nbsp
His statement is coming after he pointed out that the RSI of Bitcoin being at 68 was still looking very strong despite the macroeconomic effects of the new COVID variant and the U.S Federal Reserve's announcement of tapering.
The take of other market analysts
However, not all market players hold the same opinion as PlanB. In fact, long-time Bitcoin skeptic 'Mr. Whale' has been openly critical of PlanB's optimism, stating that the analyst should now delete his Twitter account as his model was nowhere near its predicted worst-case scenario price of $138,000.
Another key market player to comment on the S2F model's projection is the Director of Global Macro at Fidelity Investments, Jurrien Timmer. Timmer asserted that by his analysis, which uses both the S2F and historical S-curves, the price of Bitcoin was expected to reach $100,000 in 2023, two years from now. Timmer's analysis diverges significantly from Plan B's projection.
"Where is Bitcoin headed? No predictions here but for me the S2F model & my demand model (based on historical S-curves) offers guidance. The next & last time the two models converge is at $100k in 2023, suggesting positive but relatively modest gains & likely continued volatility."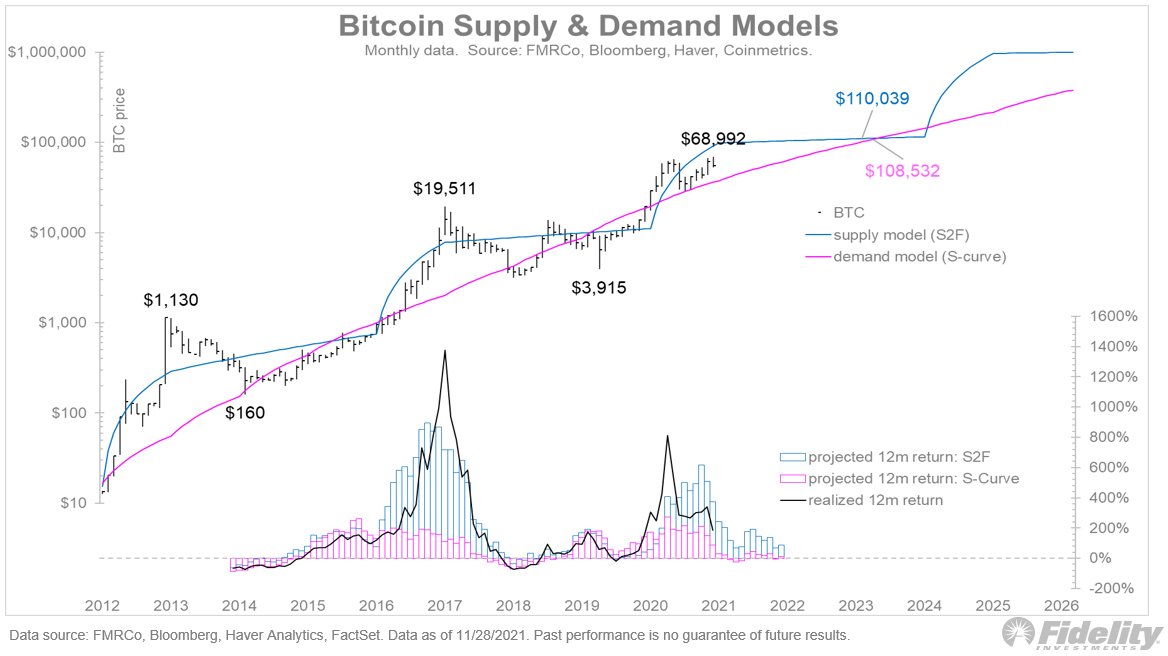 A similar take to Timmer's analysis holds that Bitcoin will surpass $100,000 not by the end of this year, but within this halving cycle. This was posited by "CryptoKaleo" who noted that he was not bothered by where the top was but expected it to go higher.
"I've said it before and I'll say it again – I still expect to see #Bitcoin to have a parabolic move to top out at $100K+ this cycle. I'll gladly start scaling out around $150K. I expect it to go higher, but I'm not concerned with nailing the top. Until then, just keep stacking."
This view is more long-term as the next halving cycle is expected to occur around early 2024.
---
---