Advertisement
&nbsp &nbsp
While the crypto market hurdled headlong toward an epic crash on a mountain of dreadful developments, veteran trader Peter Brandt predicted that bitcoin was headed to December 2020 lows near $28,000.
As investors now desperately search for the light at the end of the tunnel, Brandt suggests the bitcoin market freefall may have just tapped the bottom.
Bitcoin's Local Bottom Is At $27,000: Peter Brandt
We might have already reached the bottom.
In a Thursday tweet, Peter Brandt observed that the $27K level could be a local bottom for bitcoin. The classical chartist said the massive spike in volume is an indication that traders are capitulating.
"This is the type of volume spike that can indicate puke-out capitulation and the beginning of the end of the one-year decline. Can the carnage continue? Anything is possible — and that includes a local bottom. I've mentioned 27,000 area as possible low, and that could be $BTC"
Advertisement
&nbsp &nbsp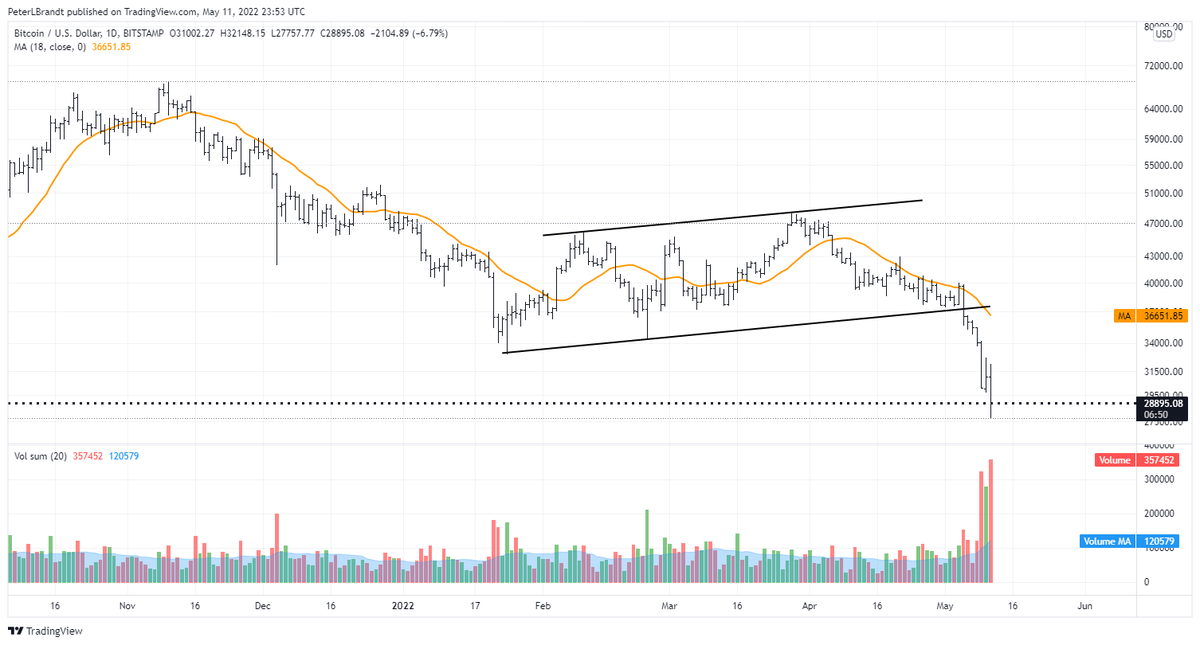 According to Brandt, the weakness came as the Terra stablecoin meltdown ricochetted into the "trustworthy" bitcoin. As previously covered by ZyCrypto, Terra's LUNA shed nearly 100% of its value in under a week as UST lost its dollar peg. This crash has been considered one of the swiftest and most savage in the history of crypto, and it's had dire effects on the entire cryptocurrency ecosystem.
Overall, the crypto market is down 10.70% over the last 48 hours, with benchmark crypto bitcoin dropping 11.59% to a current price just above $30k. Other major cryptocurrencies nosedived this week with Ether down 19.29% and the likes of XRP, Cardano's ADA, and Solana (SOL) losing over 25% of their value.
Stablecoins Debacle
Notably, the crypto meltdown is happening in lockstep with a crash in the equity markets. The stock prices have been on a downward trend since the Fed's decision last week to hike interest rates.
As is evident, bitcoin fundamentals have taken a back seat as fear-driven trading takes over. Crypto investors are increasingly rushing to exit the market, which resulted in Tether's USDT losing its peg against the dollar. The world's largest stablecoin momentarily hit a low of $0.96 on major exchanges, stirring fears of an imminent UST-like death spiral.
Nonetheless, Tether CTO Paolo Ardoino assured USDT holders that over 300 million tokens had been redeemed at the $1 peg in the last 24 hours. USDT has slightly recovered but is changing hands at $0.99 at publication time, according to data pulled from CoinMarketCap.
With fear, uncertainty, and doubt (FUD) now at levels reminiscent of the crypto market disaster in 2018, anything is possible and the bitcoin carnage could continue. Brandt, however, sees a base being formed at the $27K zone, which can prepare the number one cryptocurrency for the next leg up.
If he's right again, then strap in. Bitcoin might soon rise like a phoenix from ashes.
---
---