Advertisement
&nbsp &nbsp
On Thursday, Bitcoin continued to shed its value, dragging along other crypto-assets. As of writing, BTC is trading at $28,235 after losing the June $28,000 support and dropping as low as $26,700 earlier today. Ethereum had plummeted to $1,800 before recovering to $1,952. 
According to Coinglass, in the past 24 hours, the total number of liquidations stood at $1.28 billion with 411,467 traders being caught in the crosshairs. The global crypto market cap has sunk 15.33% in the last day to sit at $1.19 trillion.
Crypto analyst Ali Martinez says more negative motion could be on the horizon as BTC has broken a historic trendline that could see prices crash by 40.59% to $20,000.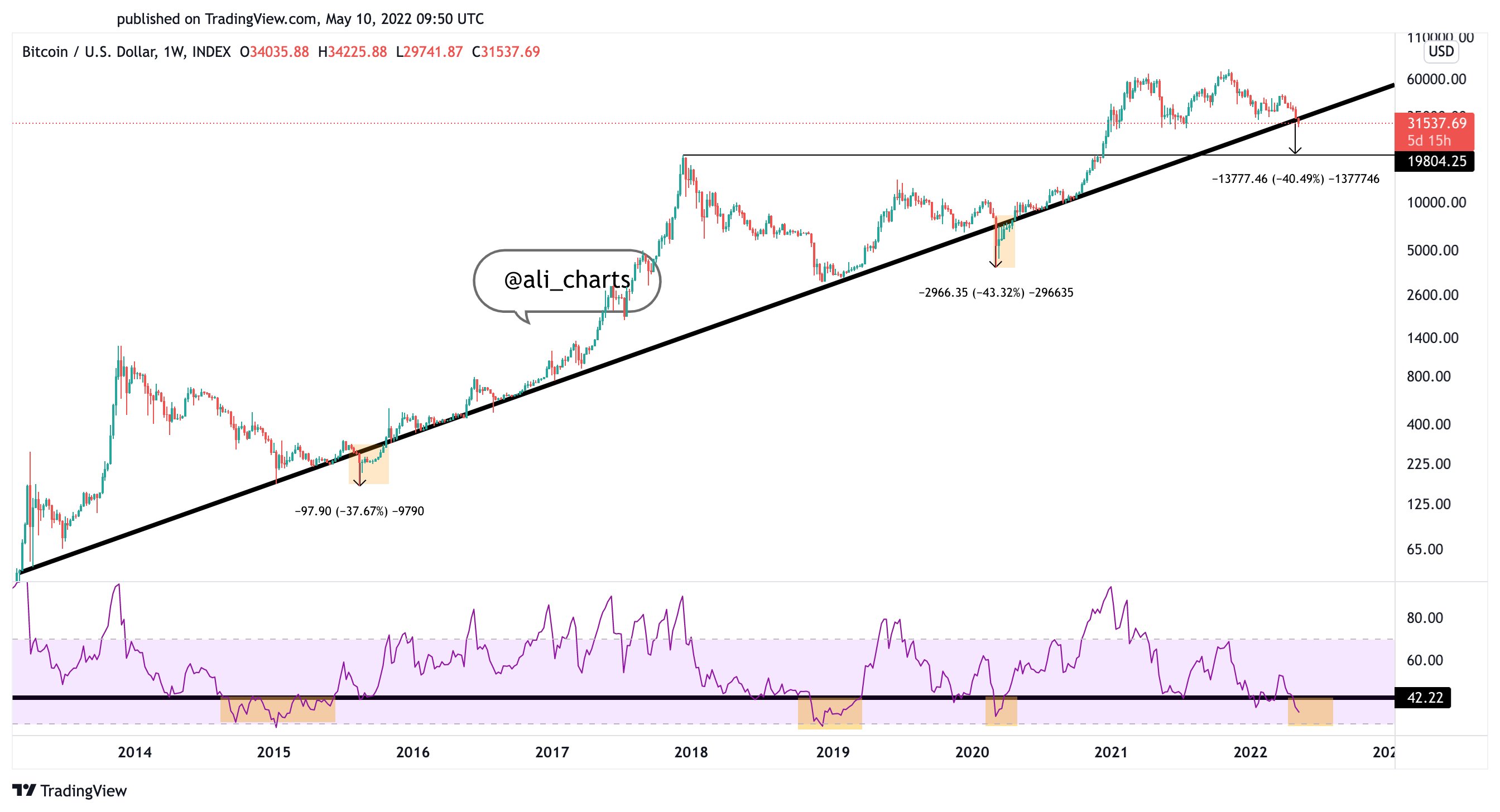 Thursday's dip, however, seems to have triggered a larger number of purchases with the top eight exchanges by traded volume displaying a significant rate of purchases on their order books. Currently, the weighted percentage of purchases across all crypto exchanges stands at 64.63% with BitMEX leading at 83.7%, followed by OKX at 75.35%, and then Deribit at 72.7%.
The sell-off was also reflected across other crypto sectors with the De-Fi lending sector liquidation volume reaching $130 million in the past day, which is a new high for the year. The most affected protocols include AAVE which lost $64.3M, Venus ceded $38.19M while Compound lost $13.02M.
Advertisement
&nbsp &nbsp
The FUD around stablecoins, particularly with Terra's UST de-pegging off of the dollar this week has been blamed on the market carnage.
"There is pressure to get out of stablecoins right now because they are worried about the risk illustrated in UST. This event is probably the most destructive in the history of crypto with probably about $30B just wiped out" Frank Chapparo, news director at The Block told CNBC's "The Exchange.'
UST, which first de-pegged emerged last weekend after the stablecoin plunged below $0.98 prompting emergency action by LFG aimed at sustaining it at dollar value, seems to have only worsened. The stablecoin dropped as low as $0.225 on Wednesday, although it has now recuperated to $0.48. LUNA, the native token for Terra which tapped a high of $120 in early April also took a hit, plunging over 98% this week alone to sit at $0.07 as of writing.
That said, the stablecoin FUD continues to spread, sending shockwaves across crypto assets as traders dump their holdings for safety nets fearing that UST's plight could befall other stablecoins. Already, Justin Sun has expressed fears of TRX becoming the next target, prompting him to roll out a plan to cushion the recently launched USDD stablecoin that mimics UST.
"Funding rate of shorting TRX on Binance is over 100% APR. It seems TRX is the next target after LUNA. TRON DAO Reserve will deploy 2 billion USD to fight them." Sun Tweeted Wednesday.
---
---