Advertisement
&nbsp &nbsp
After tapping a weekly high of $48,000 on Monday, the bitcoin price erased the gains and dropped to as low as $44,250 on Thursday night after a 5.1% retracement.
Interestingly, a crypto wallet holding approximately 11,326 BTC (worth $517 million today) finally woke up on March 29 after many years of dormancy, according to the Whale Shadows tool.
Dormant BTC Wallet Activated Right Before Recent 5.1% Selloff
Whale Shadows is a tool that was created by independent market analyst Philip Swift to track coins that were activated after years of sitting idle. It was designed to capture when +100 BTC are moved. Surges in this indicator are often accompanied by significant price movements, Swift notes.
"There was a significant movement on-chain yesterday, with +10k BTC that has not moved for the past 7-10yrs finally moving," the analyst tweeted Thursday.
Based on data from Swift's on-chain analytics resource LookIntoBitcoin, the recent movement of the 7-9 year dormant coins was one of the two biggest ever in the history of the flagship cryptocurrency. The last time old coins moved on such magnitude was in December 2017 when BTC touched the underbelly of $20,000. After three years of an agonizing bear market, this record high was finally shattered in December 2020.
Advertisement
&nbsp &nbsp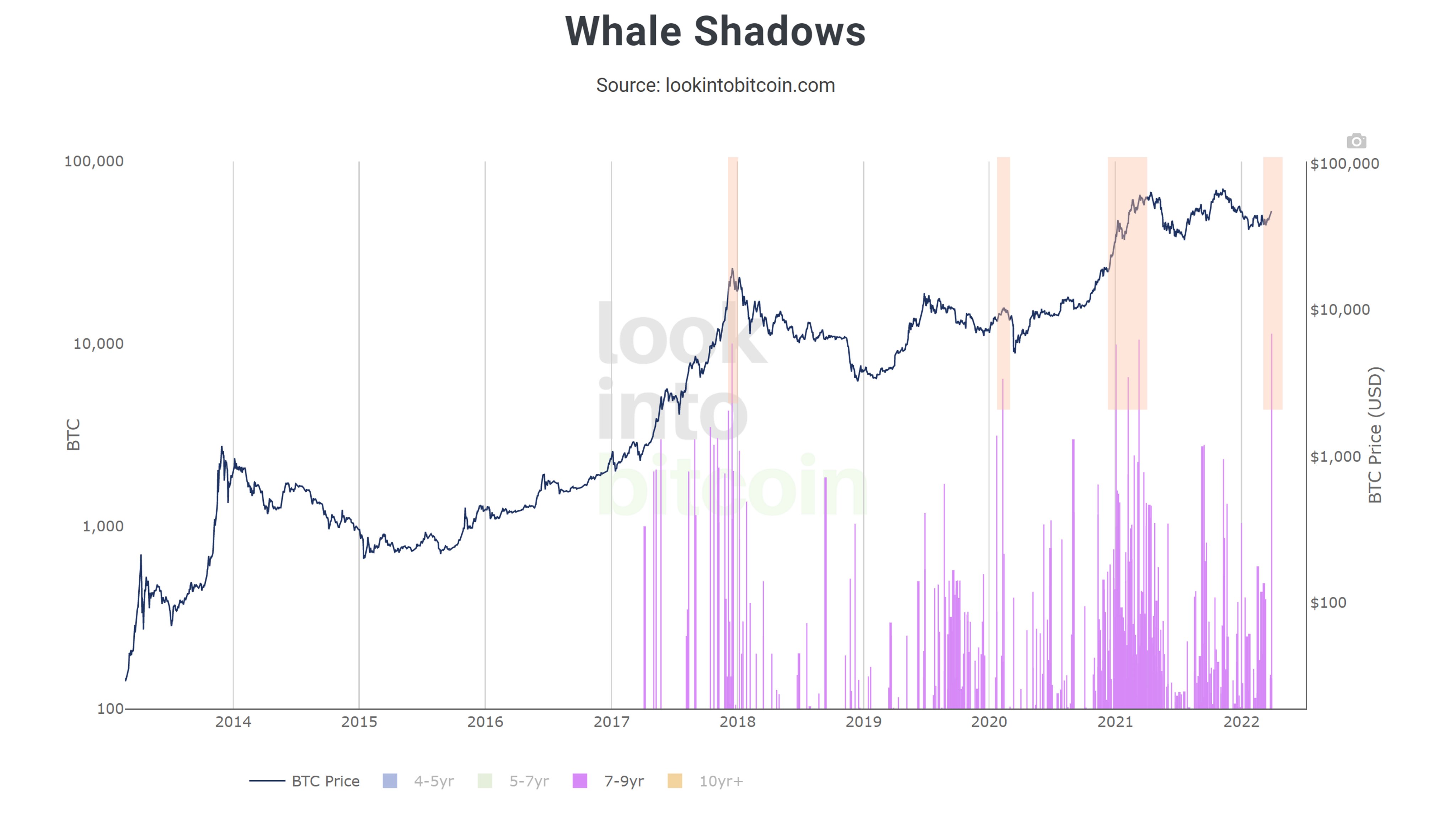 Swift quipped that the aforesaid funds were possibly linked to the 2014 theft of the now-defunct crypto exchange Cryptsy.
Where Does Bitcoin Go From Here?
Bitcoin has been trending upwards in recent weeks amid growing interest from institutional investors. The rally has been a continuation of the upswing that began earlier this month after the Federal Reserve approved the first interest rate hike in over three years.
BTC recoiled below $45K on Thursday, before a slight rebound to $45,280.52 at press time. The drop followed news that EU parliamentarians had passed stricter rules for crypto transactions Thursday. As ZyCrypto reported, the approved proposal would require cryptocurrency exchanges and other service providers to gather personal details of individuals conducting transactions using self-hosted wallets.
Bitcoin's slump has also pulled down other cryptocurrencies, with Ethereum, XRP, Cardano, Terra, and Polkadot all shedding between 1.03% and 5.36% of their value over the last 24 hours.
Notably, April has historically been a bullish month for bitcoin in seven out of the last 10 years. And despite BTC closing March at $45,517, PlanB believes the dormant cryptocurrency's stock-to-flow model is still on track.
Meanwhile, analysts at U.S. investment firm VanEck stated in a Thursday note that bitcoin could be valued at $4.8 million per coin in the future if it replaces fiat currency to become the global reserve asset.
---
---