Advertisement
&nbsp &nbsp
Key Takeaways
Bitcoin miners unspent supply sitting just 500 BTC below its previous all-time high according to Glassnode. 
The data asserts the bullish position of Bitcoin miners.
Despite a high profit margin, Bitcoin mining still faces some serious challenges. 
Bitcoin miners have been HODLing their mined Bitcoins according to data from on-chain data boutique, Glassnode. The unspent supply of Bitcoins held by miners on the network is sitting just 500 Bitcoins below its previous all-time high of 1.778 million Bitcoins.
The miners' unspent supply represents Bitcoins that miners received as the block reward for validating transactions on the Bitcoin network that have never been spent by the miners. Glassnode notes that miners began holding more of their earned Bitcoins in March 2020.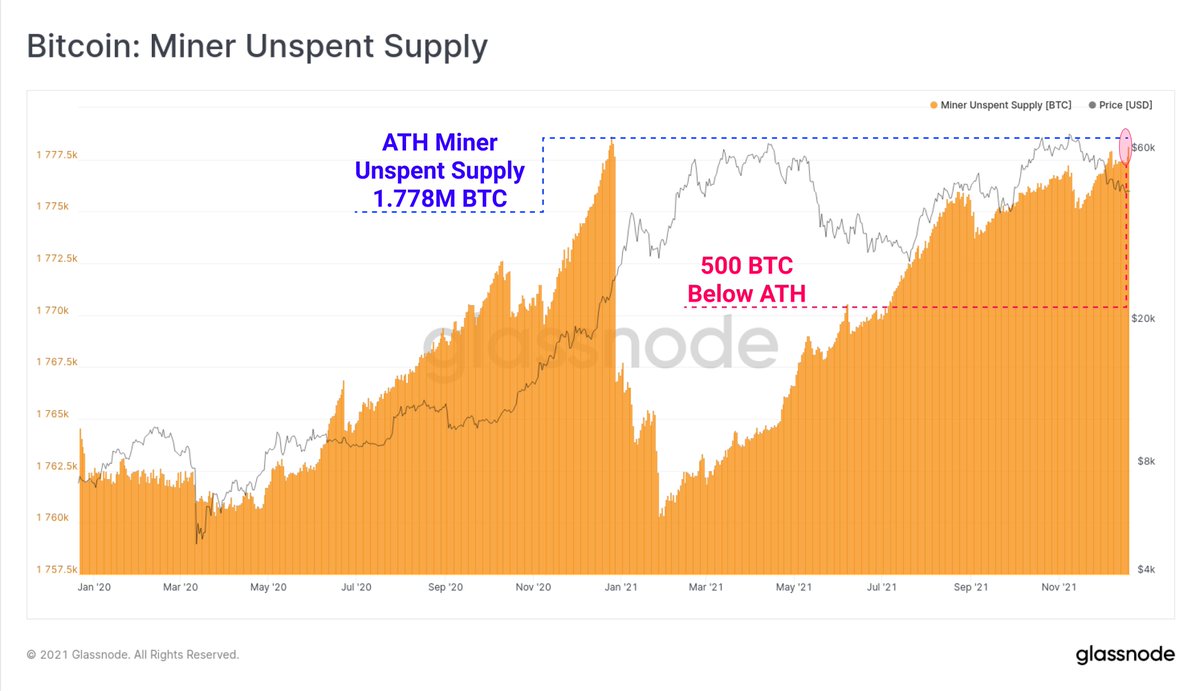 Remarkably, this development is coming after the Bitcoin mining hashrate reached a new all-time high this month, after falling more than 50% almost overnight in May following China's crackdown on the activity. The hashrate of Bitcoin is up more than 113% in the last five months according to data from Blockchain.com.
The fact that the miners are not spending their Bitcoin at the moment could be indicative of their extreme bullishness. They could be accumulating in anticipation of a price boost in the long term as several analysts including PlanB, the creator of the Bitcoin stock-to-flow model, have also harbingered. Despite the price downturn of Bitcoin in the market, PlanB maintains that Bitcoin is poised for a bull run in this halving cycle, although it may be delayed.
Advertisement
&nbsp &nbsp
The miners' accumulation also points to how profitable Bitcoin mining is at the moment. According to reports, the profit margin of Bitcoin mining is about 90% even as miner revenue per day currently sits at around $37.4 million. The high-profit margin has helped miners to be able to acquire credit to expand their operations without having to sell their Bitcoins.
Several major Bitcoin mining outfits have gone in this direction including Marathon, and Hut8, closing multi-million dollar funding rounds in the past few months. According to Marathon's CEO Fred Thiel, Bitcoin would have to fall to trading around $6,500 before the firm will realize losses from its Bitcoin mining operations.
With miners who are the only source of new supply of Bitcoin effectively hoarding their mined Bitcoin, a supply shock is bound to take effect in the market that will result in the price of Bitcoin shooting up as demand increases.
However, Bitcoin mining has its challenges to overcome. One major concern is the environmental impact of the power-intensive process. Bitcoin mining uses specialized computers that are often described as power guzzlers. High energy consumption was one major reason behind China's ban on mining activities. 
While finding clean and cheap power sources remains a problem, the high demand for the specialized computers used for mining called ASICs is also making the mining industry highly competitive.
---
---