Advertisement
&nbsp &nbsp
The crypto market plunged on Friday as Wednesday's upward momentum faded in the wake of rapidly escalating tensions between Russia and Ukraine. Markets have been rattled ever since Russian President Vladimir Putin announced on television that his army will be carrying out a "special military operation" aimed at achieving the "demilitarization and denazification" in Ukraine.
The military invasion of Ukraine began on 24th February as missile explosions were reported in the capital of Kyiv and other cities, including Kharkiv, Dnipro, and Mariupol. These tensions appear to have created uncertainty in the markets, spooking investors.
Is Gold The Real Safe Haven?
The benchmark cryptocurrency is presently changing hands at $38,839.50, according to data provided by CoinMarketCap, a drop of 6.44% over the last 24 hours. Ethereum, the crypto industry's second-biggest crypto, is down 5.85% on the day to a current price of $2,643.
The debate of whether bitcoin is stealing gold's market share as a store-of-value asset has been heating up in recent years. With bitcoin getting clobbered amid the crisis in Ukraine, investors are now questioning its safe-haven status.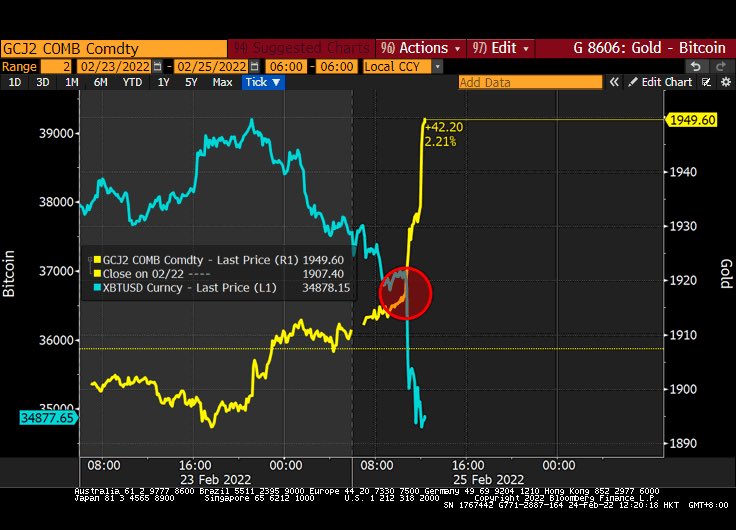 Gold, on the other hand, skyrocketed roughly 2% to reach its highest level in more than a year as investors poured into the precious metal.
Advertisement
&nbsp &nbsp
The gold market is gaining traction as investors reposition themselves ahead of another uncertain weekend, with all eyes on Russia's escalating aggression on Ukraine.
On Friday, gold rose more than $35 as Russian forces in Ukraine took control of Europe's largest nuclear power facility in a terrifying assault.
Many other crypto assets, including Terra (LUNA), Solana (SOL), Polkadot (DOT), and Shiba Inu (SHIB) also took a big hit as the aggregated crypto market capitalization tanked 9.61% to $1.7 trillion.
Traditional markets have not fared much better either. The Dow Jones Industrial Average and the Standard & Poor's 500 have both plummeted 1.9% in overnight trading. The MOEX, a major equity index that tracks the 50 biggest and most liquid companies in Russia, has also nosedived 20% from yesterday.
Ukraine is ranked among the countries with the highest rates of cryptocurrency adoption in the world. The eastern European country's path to the legalization of cryptocurrencies has been in the works.
The US and some of its allies are throwing their weight of support behind Ukraine, and are all hitting Russia with wide-ranging sanctions to defuse the tensions as fears persist on the odds of Russia turning to Crypto to ease sanctions.
---
---