Advertisement
&nbsp &nbsp
Key Takeaways
Kraken Intelligence's latest report bills Cardano to emerge as one of the best L1 blockchain.
The verdict is based on Cardano's value-driven approach to development.
Massive network growth and plans around scalability will also play a key role for Cardano's dominance.
Development on the Cardano blockchain has a lot of exciting prospects lined up for 2022. Some of these are highlighted in a new report published by the analysts at Kraken, a cryptocurrency exchange. While pointing out the massive network growth and key milestones Cardano has reached, the report hyped the proof-of-stake (PoS) blockchain to be emerging as one of the strongest contenders in the Layer 1 blockchain space.
Cardano's values will be a key factor to place them at the top, says Kraken Intelligence report
In the February edition of the Kraken Intelligence report on the crypto industry, the exchange focused on the biggest proof of stake blockchain in the crypto market. The report, titled "Cardano: A new generation of smart contract platform design," eulogized the Cardano blockchain for its value-based approach to building its ecosystem.
"Cardano's values have noticeably directed the project's developments and design decisions, and as a result, the blockchain looks like it has been designed with the purpose and standards of providing decentralized, global, financial infrastructure rather than only focusing on providing a Web3 experience," Kraken noted.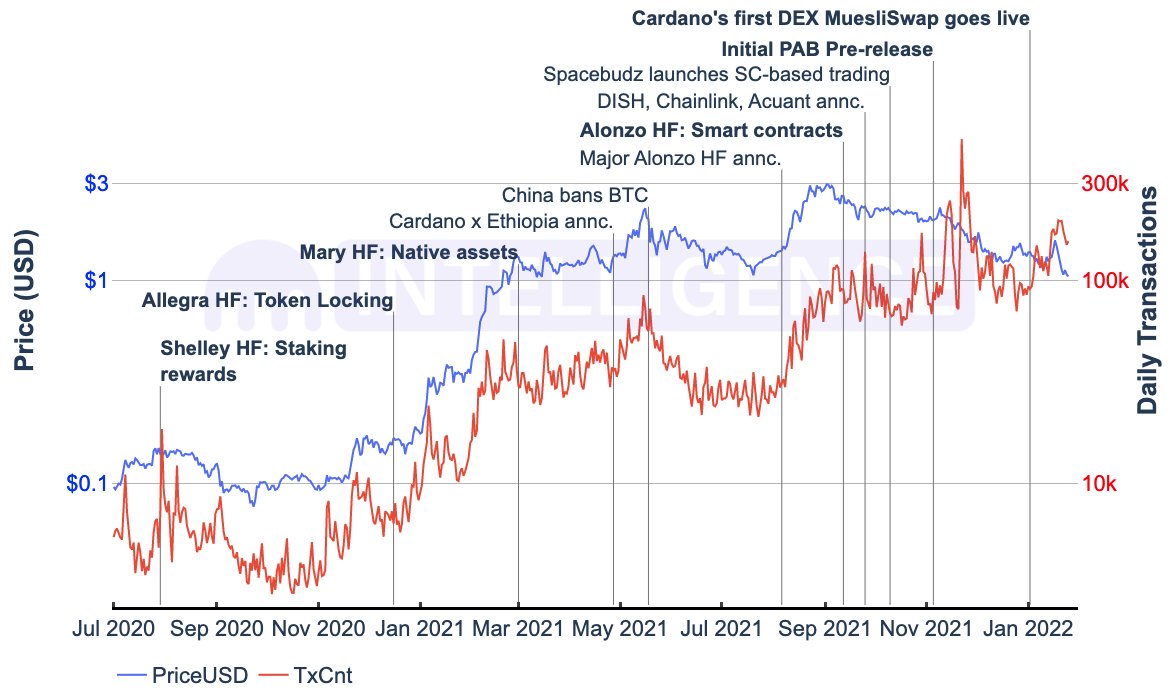 To support this, Kraken points out that Cardano is one of the more resilient blockchain networks that emerged from the initial coin offering (ICO) era of the crypto market. Cardano has also continued to deliver on its promised roadmap although sometimes with significant delays. However, when they bring their products to market, the Cardano blockchain has always lived up to expectations as an emphasis on "community governance, academic peer review, and the assurance programming" has always shone through.
Advertisement
&nbsp &nbsp
Kraken Intelligence highlights that Cardano is well on its way to bringing its vision of onboarding 2 billion people if it continues on its development track. This is due to the key partnerships and milestones the network has been recording from last year.
Cardano has formed partnerships with several governments, especially in Africa. Massive network growth as well continues to be recorded both on-chain and off-chain on Cardano. One key driver of the network growth is the burgeoning web 3 ecosystem that is being developed and utilizing Cardano's unique Plutus smart contracts platform.
Looking forward to the Cardano blockchain
As outlined in Cardano's roadmap, this year has a lineup of developments, activities, and upgrades that will bring scalability to Cardano as part of its Basho era.
Among these are Hydra, a layer 2 scaling solution that will make micro-payments possible. There is also Milkomeda which will make Cardano cross-chain compatible with EVM blockchains, and the rollout of supporting infrastructure for developers. All these make Kraken surmise that "if all goes well, 2022 could prove to be an exciting year" for Cardano.
---
---