Advertisement
&nbsp &nbsp
The world's biggest cryptocurrency by market valuation has achieved its largest 4-hour whale interval since March 1st. This came in the wake of Bitcoin whales' increased activities. According to Santiment data, the number of transactions exceeding the $100k mark in the last 48 hours stood at 3,266 amidst a bullish upsurge in Bitcoin's price in the last few days.
The upshot in large Bitcoin transactions saw its price break past the $48,000 mark before experiencing a brief market correction to trade at $47,172 as of press time. BTC's market cap currently stands at $896 billion with trading volume soaring past $30 billion in the last 24 hours.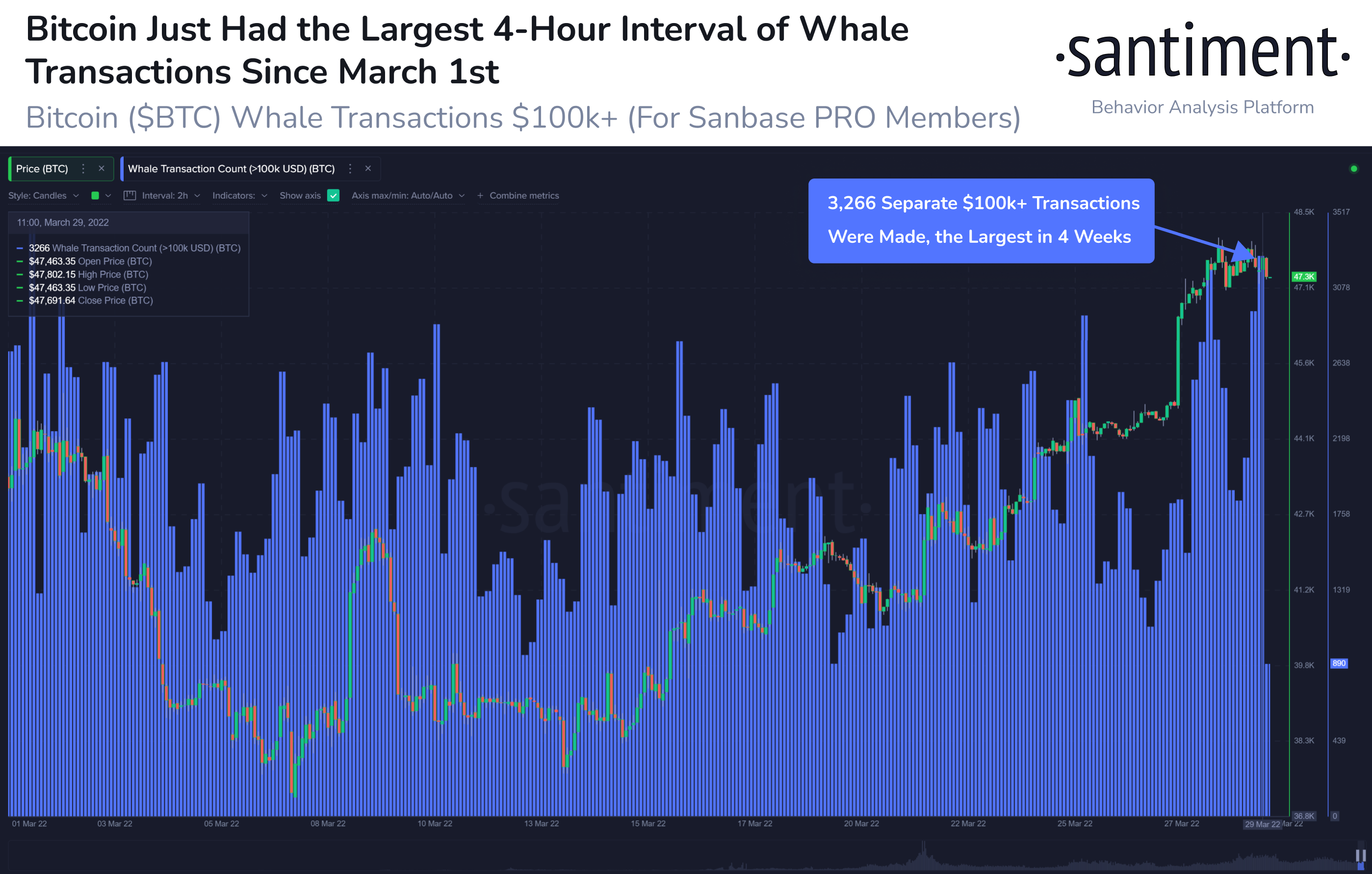 The increase in whale activity follows major Bitcoin sell-offs since the turn of the year. This week alone, over $230 Million worth of Bitcoin is reported to have been liquidated with a huge chunk of it coming from the biggest bag holders.
Despite the increase in whale transactions, leverage wipe-outs, geopolitical tensions, and other concerns, the Bitcoin market seems to be going strong according to Kyle Davies, co-founder, and chairman of Singapore-based crypto hedge fund Three Arrows Capital.
Prior to this, the Federal Reserve had announced an increase in interest rates for the first time in four years. In addition, the U.S. central bank had also hinted at several rate hikes this year which has had the net effect of making the market edgy and unstable. The resultant effect of this is that prices of risk assets such as equities, commodities, high-yield bonds, and real estate will most likely advance as well. As a consequence, people's preference for Bitcoin and other cryptocurrencies is likely to go up in a bid to beat market volatility.
Advertisement
&nbsp &nbsp
Weighing in on this, Jeff Dorman who is the Chief investment officer at Arca, a crypto-assets management firm stated that:
"The entire risk-assets selloff was way overdone and made no sense, to begin with. Markets generally go higher during rate hikes, and it's only at the end of a rate-hike cycle when markets typically go the other way."
Perhaps motivated by fear of missing out, big corporations and institutions have also joined this bandwagon. Last week alone, it was reported that capital injections into crypto projects and funds stood at over $193 Million with Bitcoin taking the lion's share.
---
---