Advertisement
&nbsp &nbsp
The third-largest Bitcoin whale is still in an accumulation spree, recently adding nearly 1000 BTC to its wallet as price came tumbling from $59,250 to $54,000 in just two days. It comes after BTC options expired on Friday and sparked a huge panic selling.
Crypto whales are good at proving the long-term tried and tested investment strategy – that wealth too often moves from impatient to patient hands. Thus, the accumulation trend by whales has been dominant since April. Such accumulation debunks the myth that Bitcoin is in a long-term slide and strengthens the notion that it is just a matter of time before the crypto starts to shoot up again.
"Note, while it's possible this is a cold wallet for exchanges like Robinhood, transaction volume and pattern doesn't seem to support this, very inconsistent from other cold wallets. For one, many strategic buy the dip and sell the rally behaviors and clear long term accumulation trend," a Cryptoquant commented on the matter.
A close look at the said whale wallet – which is now holding a total of 114,999 BTC, shows this is the 11th accumulation purchase this month. All the coins have been acquired at the price of between $54,000 and $67,000 and the latest purchase may have just been the lowest accumulation price for the whale this month.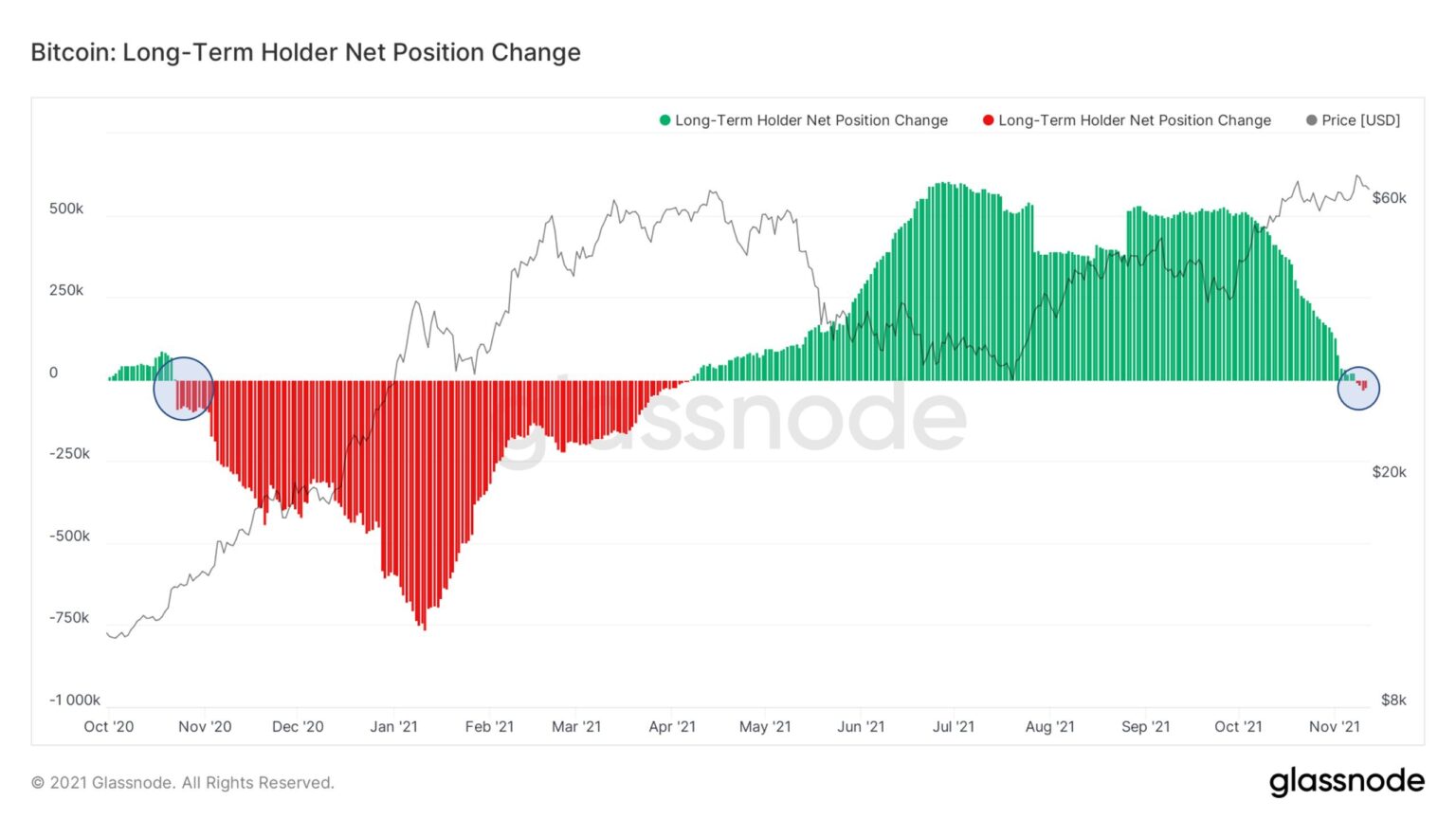 That said, the $50k+ range may be the lowest accumulation point or price floor for BTC whales at this time, and the price may start to go up soon because the overall accumulation trend by long-term holders seems to be coming to an end. A closer look at the above chart from Glassnode market analysts reveals that the accumulation strategy (green) by long-term holders has been very strong since April and started to fall sharply around October. It just flashed a negative, which could mean that more of the whales are now selling than accumulating.
Advertisement
&nbsp &nbsp
Going by the chart, if history repeats itself, the price starts to shoot significantly when there is an inflection in the long-term holders' net position from positive to negative (from green to red as shown in the chart). In other words, price starts to go up significantly when more whales are selling than buying, although again that is bound to take some time. In fact, Glassnode analysts said on Tuesday that short-term holding positions were starting to increase and this coincides with a price increase.   
---
---