Advertisement
&nbsp &nbsp
YIELD App, a Fintech company that seeks to redefine banking through decentralized finance (DeFi), is happy with its recently published Q3 report that shows the firm's growth trajectory for the past few months.
As per the report, YIELD App saw its managed assets double increasing by 107%, from $163.6 million recorded in July 2021 to $333.4 million by the end of September. YIELD largely attributes the growth to its Bitcoin Fund, which was launched in July. Notably, within days of its funding round, the Bitcoin Fund reached a cap of 500 BTC before getting close. However, YIELD reopened it on August 20, which saw up to 1500 new users sign up. This was the highest number of signups recorded by the firms since its beta launch in December.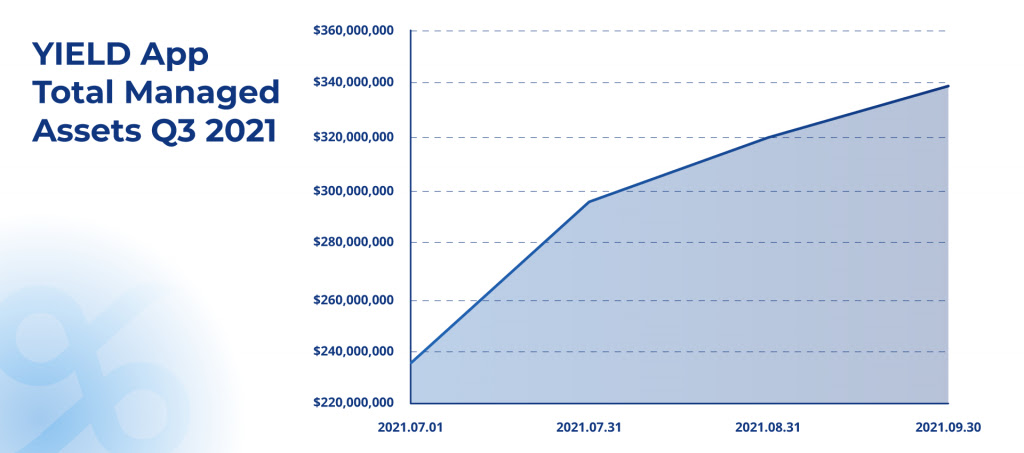 The firm also attributes its asset growth to many corporate and institutional clients from various industries, including traditional investments in blockchain. These makeup over 60 clients that cut across Asia, Europe, and Australia. In addition, in Q3, the firm formed a strategic partnership with West Ham United, a Premier League football club.  The partnership, which was entered into in September, now has YIELD App as the official Digital Asset Wealth Management partner for the club until the end of the season in June 2022.
While speaking on the YIELD App Q3 Report, Tim Frost, CEO of YIELD App, stated:
"In the nine months since our beta launch in December 2020, YIELD App has gone from strength to strength, growing at an unprecedented pace. In the latest quarter alone, we have seen our managed assets more than double and secured an exciting new partnership with West Ham United that places us among the top tier of digital asset wealth platforms."
Advertisement
&nbsp &nbsp
YIELD App was created to make it easy for users to invest in DeFi and access its full potentials. The firm seeks to simplify how users engage with DeFi by reducing the cost and complexity of learning about the market. This is why the platform provides innovative digital asst wealth management platforms that bridge traditional investments and DeFi.
Frost added:
"I couldn't be more pleased with how the first nine months of our business have gone, and I am thoroughly looking forward to the successes that await us in the last three months of the year and beyond. With our strong and growing team and our market-beating proposition, I am confident YIELD App will become a leading platform for anyone interested in digital assets, anywhere in the world."
Lastly, the report also outlines various security and fund management aimed at increasing trust among its users. The areas outlined include how the firm invests users' funds, gives detailed information about its risk management measures, and so much more.
---
---