Advertisement
&nbsp &nbsp
Glassnode reports Bitcoin's current position in the market.
Bitcoin is currently surviving on the back of institutional holders.
The asset could very easily see a significant surge if it imitates the 2019 pattern.
Bitcoin entered 2022 trading sideways as it made a slow entry into the new year. BTC traded at a high of $47,875 and dropped to $40,233 in the first week of the year. The performance has been described as a poor follow up from the November and December price movements, where the market saw Bitcoin hit a high of nearly $69,000 and continued to mount uphill momentum.
The underlying fundamentals show that there is very little on-chain activity. Glassnode's market analysis reveals that institutional funds and long-term holders are the primary market participants at the moment. Retail traders or market players who come into the market when there is a price hike are currently outside the space.
Meanwhile, a new pattern has emerged. Back in 2016/2017, the bull market ignited with an explosive start as new entities swelled in large numbers, peaking later on a maximum hype cycle. The same market movement followed in March 2020 and peaked in February of last year.
This growing channel is what Glassnode calls a "bear market growth channel."
Part of its recent analysis reads;
Advertisement
&nbsp &nbsp
"Even though prices are falling and even though the market gets a little bit depressing during these down periods in 2018 and 2019, we've had this phase since May."
Meanwhile, new entities continue to grow. Despite this happening at a slow pace, it is worth noting that even during bearish periods, more users are still entering the Bitcoin market. What is likely to happen per Glassnode's analysis is that the bull market tends to springboard off that pattern.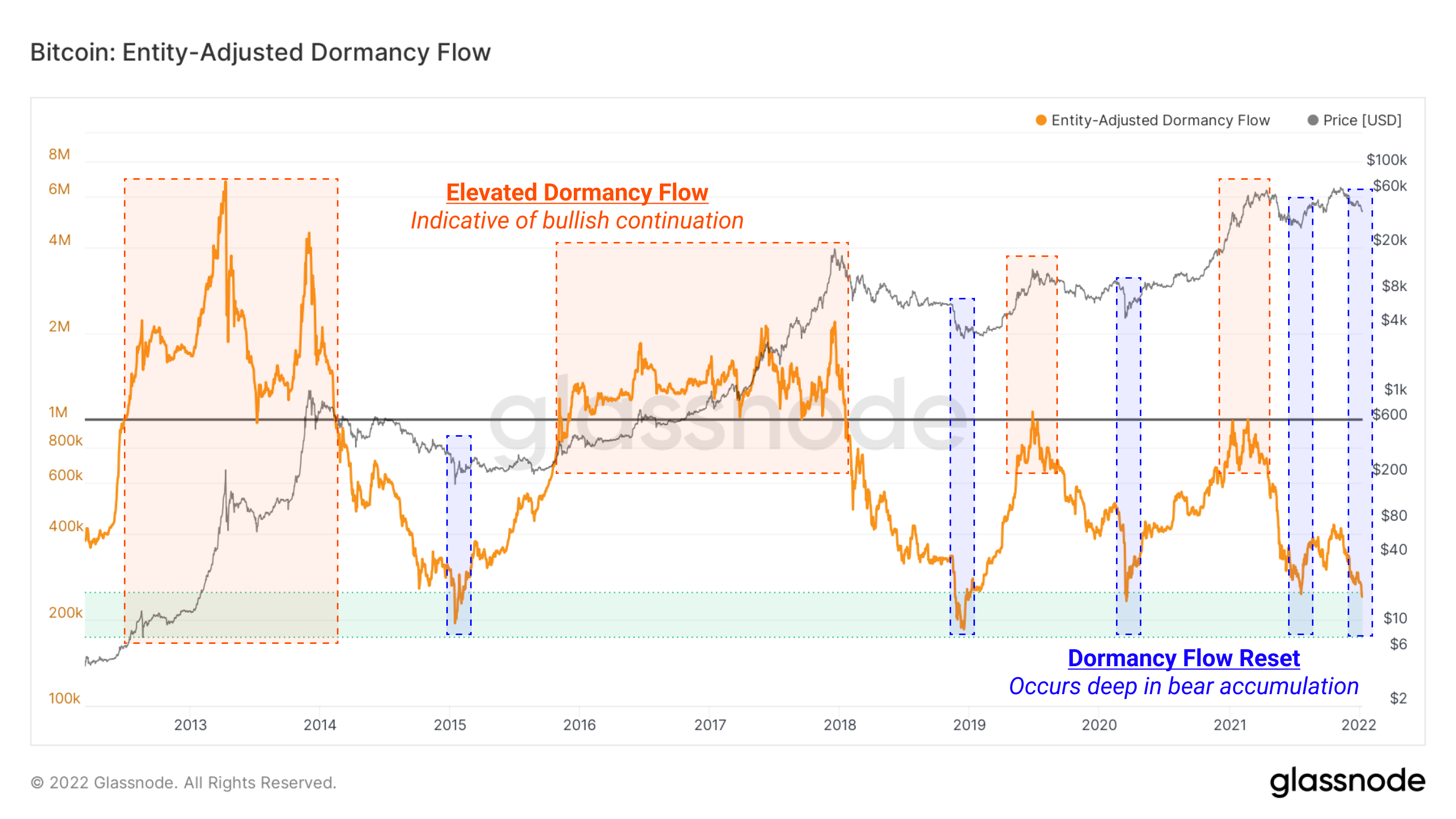 In 2019, Bitcoin also saw an explosion of on-chain activity but didn't have the momentum to enter a full-scale bull market. The same pattern was spotted between August, September, and October. Glassnode reckons that Bitcoin might presently be imitating that pattern.
"The takeaway here is that it doesn't look like a bull market, but it is also starting to look a little bit like 2019. If it can get a little bit more momentum, maybe it can really turn the tides. But it does need to see that follow-through of momentum and more people coming in."
---
---