Advertisement
&nbsp &nbsp
October was a wild month for meme coins. There was so much hype that influenced some of their prices upwards. Shiba Inu and Dogecoin were the most talked about meme coins. Interestingly, as the name suggests, these are coins that originated from funny memes. Dogecoin was started as a crypto joke, only for it to flare out and attract the attention of some of the most influential people like Tesla's Elon Musk.
To put it plainly, meme coins have had a pretty crazy year – in a positive way. After the hype of October, things cooled down a bit in November. That's according to a report released by the Kraken exchange.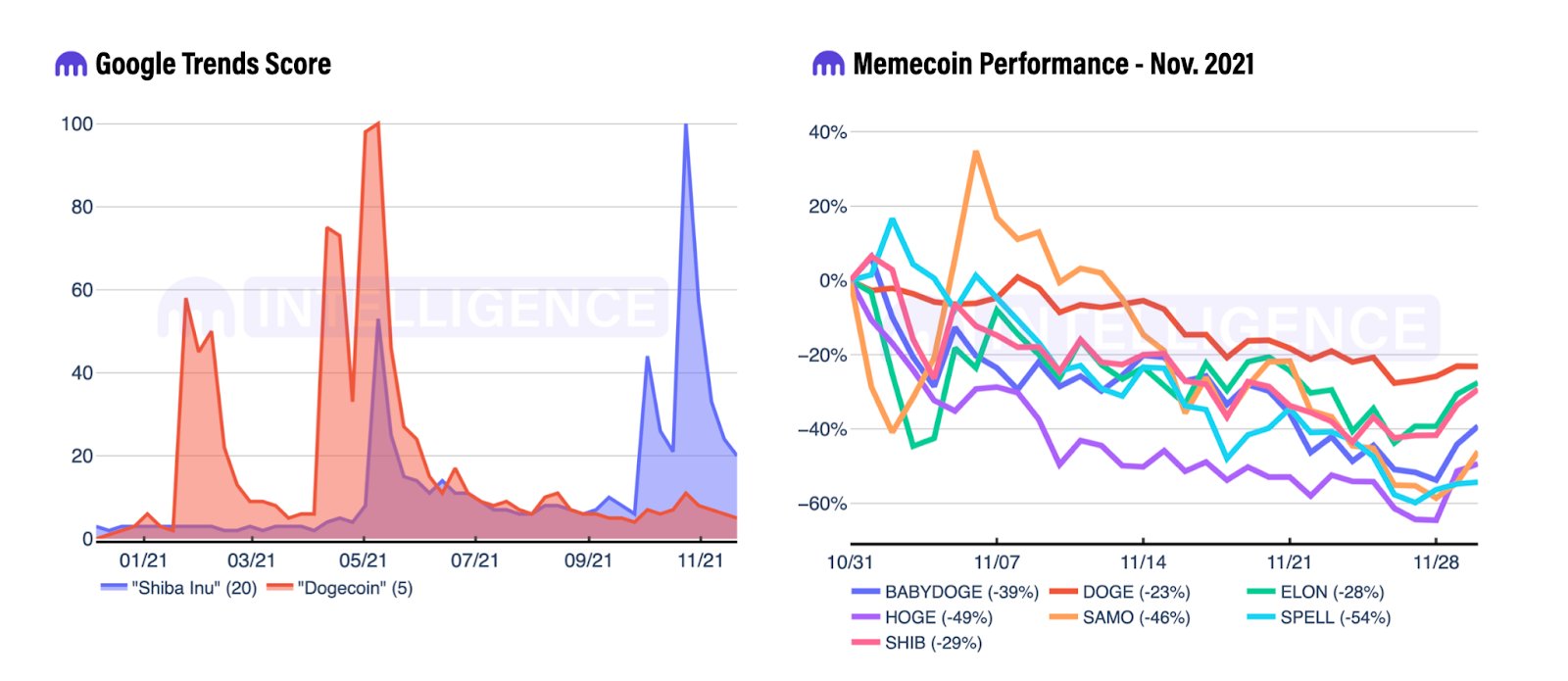 Losing Juice… Gaining Acceptance
While the hype may be dying down and interest in meme coins decreasing, the fun coins are still gaining ground in terms of adoption and general acceptance. Just recently, Elon Musk's company announced that it would be accepting Dogecoin payments for some of its Merchandise. Shiba Inu is also being accepted in various places like Newegg Commerce and AMC Entertainment.
Dogecoin's price soared over 20% after Tesla's announcement, edging close to $0.20, but that has quickly fizzled out as DOGE currently trades at $0.17.
It's worth noting that one of the reasons that Elon Musk supports Dogecoin is its apparent minimal energy use. Proof-of-Work crypto networks like Bitcoin have constantly been accused of intense energy use. For example, Elon Musk's Tesla stopped accepting Bitcoin payments in May, citing concerns for environmental impact due to BTC's energy use.
Advertisement
&nbsp &nbsp
They're Not Going Away
Memecoins are not going away any time soon, especially due to the increasing adoption by popular entities like Tesla. If anything, they may get more popular, and it's possible that we might see more meme coins launched in the future.
The fascination with these coins is partly supported by their market performance against other cryptos. DOGE and SHIB have managed to grab positions among the top 20 cryptos in the charts. At the time of this writing, DOGE is at position 12 on CoinMarketCap, while SHIB follows closely at position 13. DOGE posts $24 billion in market cap as compared to SHIB's $18.5 billion.
---
---