Advertisement
&nbsp &nbsp
Key Takeaways
Bitcoin's four-wave cycle is poised to enter the fake top wave according to BTC market pundits. 
The current wave gauges BTC at $100k-$220k by 2023.
The speculation is highly bullish, but may not still play out.
Bitcoin, the benchmark cryptocurrency has shown prospects that it is still very reassuring to look ahead. In recently surfaced data, key proponents highlight the upside of Bitcoin's current market movement, which largely plays into the 4 wave patterns that are recorded during every market cycle.
Cryptocurrency analyst with the pseudonymous Twitter handle "@BTCFuel," explained that over the years, Bitcoin has experienced a 4 wave pattern throughout its bull cycle.
"Bitcoin has a 4 waves pattern that happens every cycle. These 4 waves are demand waves and happen when a lot of money flows into Bitcoin in a short timeframe. The 4 waves are clearly visible in the Realize Cap HODL Waves indicator."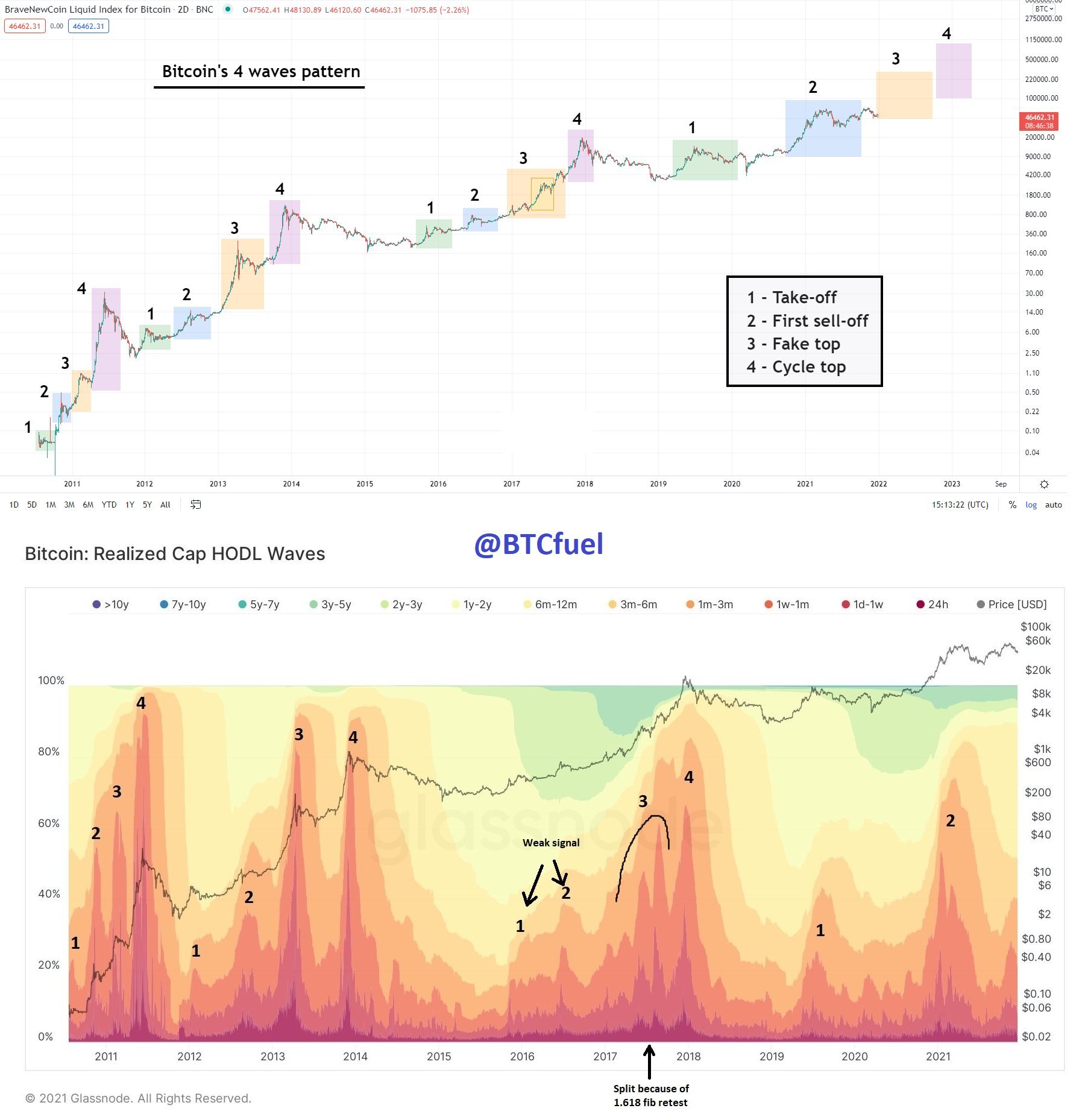 The image above reflects that since around 2011, the 4 waves pattern has been repeated about three times. The market has gone through a take-off, first sell-off, fake top, and a cycle top in these cycles.
Advertisement
&nbsp &nbsp
The duration of the cycles have also differed over the years, and tend towards being longer. For instance, the first cycle lasted around one year between 2011 and 2012, while subsequent ones lasted around two and then three years. At the moment, the market is indicating that the four-wave cycle will have an even longer duration than other times.
Leading from this, the analyst is speculating that the current cycle may last even longer than others. The data suggests that the current cycle started in 2019, and has gone through a takeoff and a first sell-off. The analyst expects that the market is now poised to enter the fake top wave and will probably finish the cycle with a cycle top in 2023. The remaining waves will also bring prices between $100,000 to $220,000.
Bitcoin market sentiments largely bullish, but there's a catch
The analysis has been met with agreement from Michaël van de Poppe. The Dutch crypto analyst affirmed that the analysis made sense, noting that the current cycle would take the price of Bitcoin higher and would last longer than others to do so.
By predicting that the market will enter the third stage this year with a fake top, the analysis also aligns with the expectations of a lot of key crypto market observers who are predicting that Bitcoin will reach $100,000 in 2022.
However, it could also happen that the market remains in stage two with a sell-off, validating bearish sentiments for Bitcoin. One notable Bitcoin bear is the pseudonymous analyst @CryptoWhale, who continues to assert that Bitcoin will plunge to $10,000 this year. Bitcoin is currently trading at around $41,700, up 0.93% on the day and down 5% in the last 7 days.
---
---