Advertisement
&nbsp &nbsp
Bitcoin's bull market 2nd leg officially ignited.
The new development now validates $100,000 in the near term.
Bull Market expected to extend into Q1 2022, and send prices as high as $288,000.
PlanB, the highly regarded founder of the Bitcoin stock-to-flow model has, in a very recent tweet hinted to the market that the Bitcoin bull rally is far from over. Taking to his surface to warm up the community, he disclosed that the second leg of the Bitcoin rally has taken off.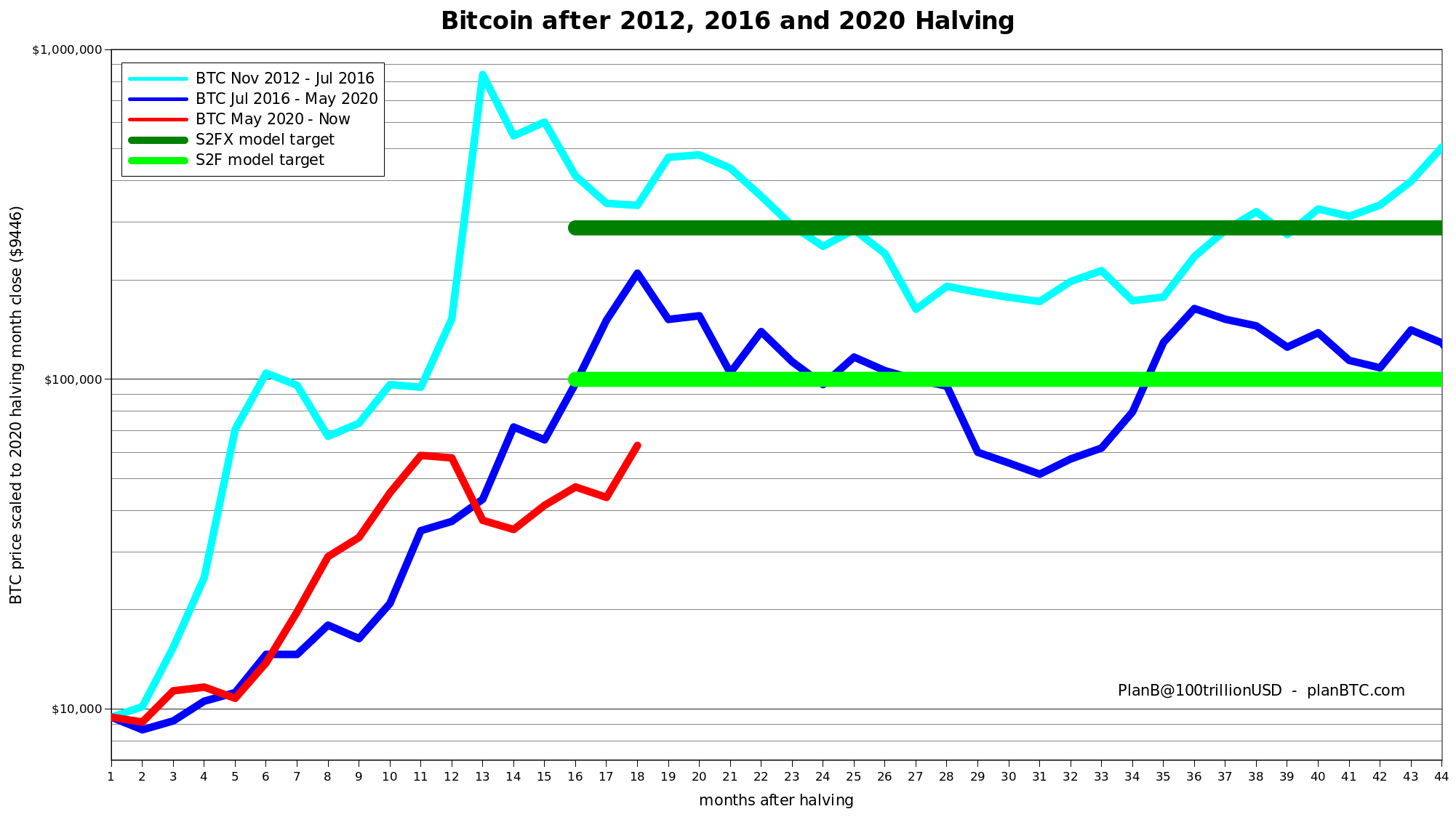 With the second leg in motion, the market is very well positioned to take on the projected $100k-$135k levels, and possibly break through that price before the year runs out. Although Bitcoin's surge to $66,974 this month had reinforced the bullish sentiments that the bear market was over, BTC will not only need to maintain stability above the new high but also attempt soaring past $80,000 next month, in order to preserve the positive sentiments.
PlanB first cited the 2nd leg rally earlier this month. The Bitcoin proponent who has accurately predicted the market's movement for the most part of this year explained that the 2nd leg was not only underway, but that it would last for a good six months.
"On-chain analyses finished tonight: IMO we are midway, no sign of weakness yet. Note color overlay is not months to halving but an on-chain signal. My guess: this 2nd leg of the bull market will have at least 6 more months to go."
This would mean that the rally could very well continue into March of 2022. Alongside the extended rally, the price of Bitcoin is expected to double its year-end price of $100,000, and even add an extra $88,000 to hit $288,000. This is a striking declaration from the Bitcoiner, as skepticism is still very present in the market. In fact, popular skeptic "CryptoWhale" has maintained that Bitcoin will slip and drop below $20,000 in the long term.
Advertisement
&nbsp &nbsp
Supporting his prediction is the fact that historically, the market has recorded price dips at the beginning of the year on different occasions. However, it is important to keep in mind that the Bitcoin market is evolving. With prices hitting never-before-seen levels, and some of the most estimable institutions steadily adopting the asset, it is very possible that Bitcoin beats the odds come 2022.
---
---