Advertisement
&nbsp &nbsp
Key Takeaways
Charles Hoskinson says dApps will boom after Cardano's June Vasil hardfork.
The HFC will come with multiple improvements for DEXs.
The price of ADA continues to falter despite healthy ecosystem metrics.
Cardano (ADA) has recently been underperforming in price, leaving adherents expectant for a market-driving catalyst. Cardano founder, Charles Hoskinson, may have just provided such a catalyst for market participants to look up to.
Cardano dApps to breathe new air after June
In a recent tweet, Hoskinson while acknowledging the expeditiously expanding Cardano ecosystem, stated that the network is poised to see even more projects launched this year. Specifically, the influx will peak after the blockchain's planned upgrade in June – the Vasil Hardfork.
Hoskinson was responding to a tweet that highlighted the 500+ projects currently building on Cardano. The post noted that the majority (34.7%) of current projects preparing to launch were NFT projects.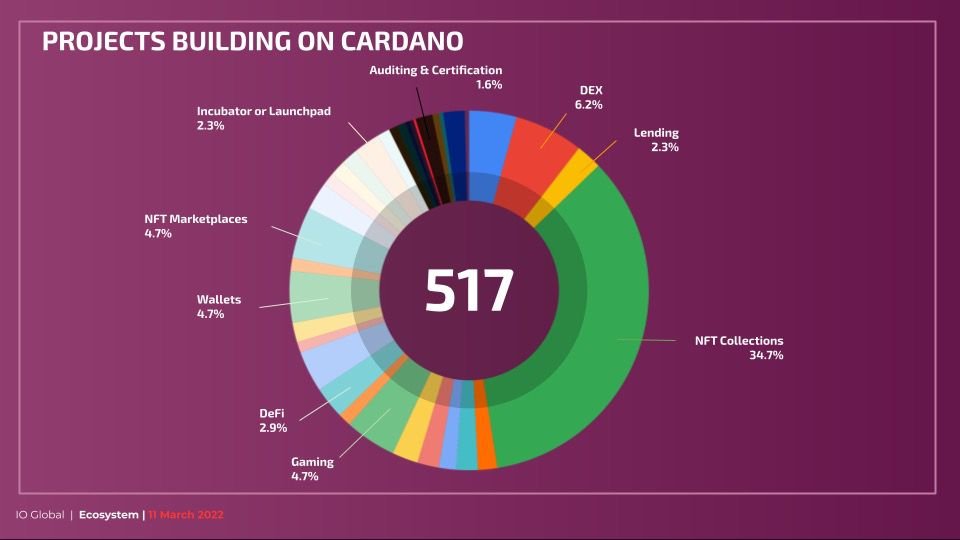 "Moving the chains. A large wave will come after June when the Vasil hardfork happens."
The Vasil Hardfork, named after the now late Cardano ambassador Vasil Dabov, will usher in scaling enhancements for DeFi, DEXs, and smart contracts. The hardfork will be the second of three planned upgrades this year. The first has already taken place through a code drop, and the final schedule is for October.
Advertisement
&nbsp &nbsp
Cardano's development arm, Input-Output Global (IOG), which Hoskinson is the CEO of, promises to utilize 2022 to scale and optimize the blockchain. Awaited scaling upgrades include pipelining, new Plutus CIPs, UTXO on-disk storage, and Hydra.
When will the price of ADA follow development?
While the envisaged upgrades tarry, the Cardano blockchain has in the meantime recorded some milestones. Just today, Trezor, a crypto hardware wallet, announced that it now supports ADA in its Suite.
Working with FiveBinaries, a blockchain infrastructure development company, to make the feature possible, Trezor now also supports all Cardano native tokens, as well as ADA staking by extension.
Similarly, the Total Value Locked (TVL) in Cardano's DeFi ecosystem crossed $200 million earlier in the day. It is currently sitting at over $213 million per data from DefiLlama. SundaeSwap leads the charge with a 53.41% dominance and $112.9 million in TVL. Following closely in second is MinSwap with $100.6 million in TVL.
Meanwhile, the price of ADA has failed to slingshot with the rapid growth of the ecosystem. ADA is trading at around $0.82, up 3.23% on the day. However, the price is down 5.05% from one week ago. Even more tellingly, it is lower than its pre-DApps era as it is down 37.9% in the year-to-date time frame.
---
---